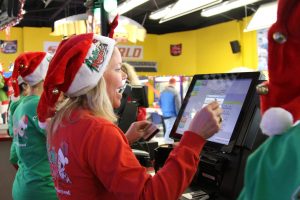 All the fun for half the price! Get ready to save BIG when you shop our World Famous Black Friday Sale at Jolly Roger on 30th Street! At Jolly Roger, we take the holidays seriously, which means that Black Friday is more than just another day for sales- it's one of the best holiday events in Ocean City, Maryland!
This year, give your friends and family the gift of a Jolly Summer because ALL 2020 Jolly Roger passes are 50% off! Buy passes for the Pier and our 30th Street location, including Speed World, Splash Mountain, and the Amusement Park! Choose from The BIG Ticket, 2-Hour Armbands, Unlimited Daytime or Unlimited Nighttime Armbands, and more! ALL for 50% off! This Christmas give the gift that keeps on giving with Season Passes to Splash Mountain so your friends and family can cool off all summer long without worrying about the cost! You don't want to show up without some Jolly Gear! Choose from Jolly Roger hoodies, backpacks, hats and more all included in our World Famous Black Friday Sale!
They don't call it a "World Famous Event" for nothing! Have a Jolly good time with music and LIVE coverage from Froggy 99.9 while sipping on some free hot chocolate, apple cider, or hot coffee! Or if you'd prefer, warm-up by our firepits while you make your way towards the register with a free cookie and pastry in each hand! This Black Friday Sale is truly an event that you do not want to miss! Bring the kids to play in the arcade while you purchase the perfect gift, sure to put a smile on everyone's face!
So what are you waiting for? Set your calendars and RSVP on Facebook for our World Famous Black Friday Sale today!