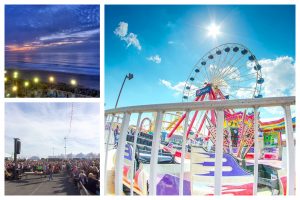 Ocean City, MD
Here's the thing, Ocean City in the summertime is something you need to experience at least once in your life: splashing in the Atlantic to cool off, eating an ice cream cone on the boardwalk, and getting dizzy on the rides at Jolly Roger®. But the beauty of this coastal town is the fun doesn't stop when the tourist crowds leave after Labor Day. In fact, September is just when the party's getting started! So, the predicament lies in whether you stick around for the summertime vibes or linger in early autumn when the calendar is crammed full.
In the middle of September, you can pretend summer is still going strong at the annual Sunfest, a free multi-day event with live music, crafts, and good eats, or you could don your favorite leather jacket and join 150,000 bikers at the legendary Bike Week. Better yet, Wine on the Beach occurs at the end of the month, inviting you to sip grape libations right on the water,
But you if you stick around for the first weekend of October, you'll thank yourself later. The engines start revving at Endless Summer Cruisin', a massive vintage car show with everything from hot rods to tricked-out trucks. There are a ton of must-attend events during this time, if you don't make time to soak up those last remaining beach days, before the chillier temperatures arrive, you just may regret it later.
Read the full article here: https://viewfinder.expedia.com/features/14-cities-give-worst-case-fomo/
Photo from Expedia article. Photo credit: