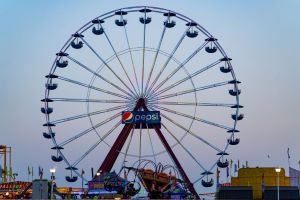 Summer of 2022 is here in Ocean City, Maryland and at Jolly Roger® Amusement Parks, we're focused on fun for the whole family! If you're looking for things to do or a summer vacation spot with something everyone will love—you're in the right place. 
With five different amusement parks around town that have their own unique rides, games, and attractions, you won't have to worry about planning a full itinerary. Just show up and explore, ride the rides, play the games, challenge your family to races, and most importantly, make long-lasting memories. Check out all five parks that will be open this summer and buy your passes ahead of time to beat the crowds!
Jolly Roger® Amusement Parks
Splash Mountain is the largest water park in the area with 16 slides and attractions for all ages to play on. On a hot summer day, there's nothing better than cooling down while experiencing the thrill of a fast racing water slide or relaxing as you float down the lazy river. 
Race around the tracks with the best in racing technology! If you haven't been by it's the perfect time to visit our newly renovated tracks, facilities, concessions, games, and more. Do you have video game lovers in your family? Try out the state-of-the-art video games we have at the park and our classic 5 story cart coaster for more thrills.
If you've ever been to Ocean City, MD you've caught a glimpse of our famous Giant Wheel on the south end of the Boardwalk. This amazing location on the pier with views of the ocean has tons of rides and games that are fun for any beach visitor. Try our crazy coasters and classic amusements like the teacups, bumper cars, and the double-decker Venetian Carousel.
The 30th Street park is Jolly Roger's full-service family amusement park in the middle of Ocean City, MD, conveniently located for all visitors in town to come by. Summer vacation is made better with all of your favorite classic amusements, rides, mini-golf, and games.
Choose from two unique miniature golf courses offered by our 30th Street location for a relaxing yet fun summer activity. Jungle Golf is full of adventure and navigation through the rainforest decor to beat the obstacles of waterfalls, lagoons, and playful parrots. Treasure Golf is your way to find the buried treasure and show who the mini-golf champ really is in your family!
What are you waiting for? Come make long-lasting memories with all of your family and friends this #MyJollySummer at Jolly Roger® Amusement Parks. We can't wait to have you all here!