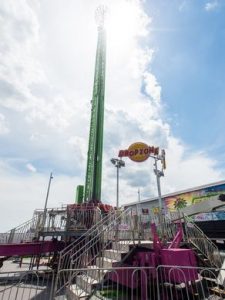 The new Drop Tower at Jolly Roger Amusement Park® in Ocean City on Monday, June 6. Staff photo by Justin Odendhal
What started out as a driving range with just a few attractions, has quickly evolved into a 35-acre amusement park.
Jolly Roger, now an Ocean City landmark with locations at the Pier and 30th Street, offers water slides, Ferris wheels, roller coasters, dozens of games, go-karts, miniature golf and more. Each year since opening in 1964, the park has expanded to keep up with the thousands of visitors it attracts.
"We are an iconic destination," Jolly Roger's director of sales Dean Langrall said. "Generations keep coming back because we offer the best possible experience, by either making necessary adjustments to classic rides or introducing new attractions."
This year, the park introduced its Miami Drift Track, which debuted Memorial Day weekend at Speedworld®, one of the largest go-kart parks in the country with 11 tracks and 400 cars.
The new "tricked out track" is the park's latest way to try something different and stand out from the competition, he said.
"We wanted it to resemble Fast & Furious," Langrall said, adding that 30 new cars — made specifically for drifting — were purchased for the track.
Speedworld's newest attraction has South Beach Miami flare, with neon palm trees, pink flamingos and LED lights mounted under the cars to light up the track at night. The typical drift race is about 15 to 18 laps long, Langrall said, who also added the ride's top speed is still unknown.
"We put a lot of thought into this track, and it's a fun one," he said.
Giving the ride a recent try were New Jersey residents Ed Keefe and his 13-year-old son, Jared, who exited impressed and excited.
Ed Keefe, who has visited the park for years with his family, said the Miami Drift Track makes coming to Speedworld again worth it.
"You gotta whip the wheel while keeping control," he said. "It's definitely one of the park's better tracks, might even give the Cyclone a run for its money."
Last year, Speedworld debuted the Cyclone, the world's first cart coaster. The wooden course, at more than 1,500-feet long, was built with 22,320 square feet of lumber, 78 pilings and 83,000 stainless steel bolts.
At 9.5 horsepower, its vehicles have twice as much power as the park's regular cars.
That horsepower is needed right at the start of the ride, as the driver drives up, in a spiral, five stories before emerging onto a straightaway in the open with a small hill. Drivers then race down a second similar spiral structure to get back to ground level.
"We call it a cart coaster because it really is like a roller coaster, except you control your own speed," Langrall said. "Folks love it."
Other park additions this year include a historic carousel, with brightly painted horses and animals. Jolly Roger on 30th Street has given it a new lease on life, Langrall said.
"This is the first time it has ever seen the sun," he said. "It's been in a Minnesota mall for the last 25 years. That's why it's in such pristine condition — it's just absolutely beautiful."
A 115-foot-tall drop tower, the largest in Ocean City, has been added to the landscape at Jolly Roger at the Pier.
Due to an unseasonably wet spring, getting the tower operation has been significantly delayed. However, Langrall expects to have it running within two weeks.