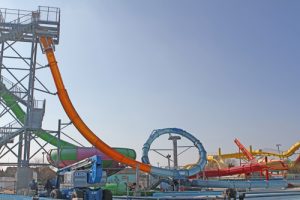 OCEAN CITY – Jolly Roger Amusement Park's® Splash Mountain Waterpark is adding a new attraction this year, the Aqua Loop, the only looping waterslide on the east coast.
"It is a different level of excitement," General Manager Stephen Pastusak said. "We haven't had an extreme water slide since the Stealth."
The Aqua Loop will be the tallest waterslide of Jolly Roger's current offerings.
The rider starts off by being enclosed into a capsule where the floor will drop out from underneath, traveling through a loop and in less than 22 seconds being released into a pool.
"You get inside it … and it goes three, two, one and then the floor drops out, and at that point you go 37 mph just in your bathing suit … at a 3G to 4G force," Pastusak said.
The Aqua Loop will be ready by the time the park opens on Memorial Day weekend. The design was rated number one waterslide by Popular Mechanics in June of 2010, and one of the three "Summer Thrills" by Bert the Conqueror of the Travel Channel.
According to Popular Science, a trapdoor drops you down the waterslide, which is a 55-foot chute that descends a steep 70-degree slope to help build up enough speed to ascend the loop. The 27-foot-high loop is angled at 60 degrees and riders stick to the walls because the loop travels at a tilted angle, not a straight up and down line. The rider will exit the slide nine to 14 seconds later into a slowdown lane of deeper water. Sprayers mist the walls of the slide with water to create a slicker, faster surface.
The engineering firm behind the Aqua Loop is Whitewater West Industries and based it on a design that's been up and running danger free for two summers in Europe.
Whitewater West Senior Site Superintendent Ryan Kennon said that the waterslide is a relatively easy build and should only take a couple months to complete. Work began on building the Aqua Loop at Jolly Roger in mid-January.
"Every year we try to add something new but this is just not another waterslide this is state of the art," Jolly Roger Director of Sales and Marketing Dean Langrall said.
The Aqua Loop is being built in the middle of the water park next to the Eye of the Hurricane and close to the Stealth.