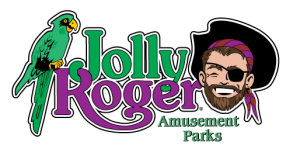 3-2-1… that's the last thing you hear before the trap door opens and you plummet – Wile E. Coyote style – through the newest extreme thrill ride in Ocean City, MD! Ascend 65 feet up to the tallest platform in the 35 acre park and then plummet feet first 480 feet before "splashing down" in a pool specially designed to slow down the speeding daredevils.
The Aqua Loop at Jolly Roger Amusement Park's® Splash Mountain Water Park is a state of the art enclosed, 360 degree, semi-transparent looping waterslide – the only one of its kind on the East Coast! Named the #1 Waterslide in the country by Popular Mechanics and one of the top 3 "Summer Thrills" by the Travel Channel, the Aqua Loop is just one more exciting part of an array of slides, rides and pools at Splash Mountain – one of the finest all-inclusive Water Parks in the Mid-Atlantic.
Engineered and built by White Water West of British Columbia, Canada, sophisticated sensors and computerized controls allow riders to reach speeds of up to 35 mph and 3Gs.
"It's a different level of excitement… it's the most unique extreme waterslide around, and is still included in our one-price admission price into Splash Mountain." Said General Manager Steve Pastusak.
The Aqua Loop opens Memorial Day Weekend at Jolly Rogers on 30th Street in Ocean City, MD.  The Park is open every day at 10AM all summer long and closes Labor Day.
For more information contact Dean Langrall, Director of Sales and Marketing:
DeanLangrall@JollyRogerPark.com or 410-289-9100