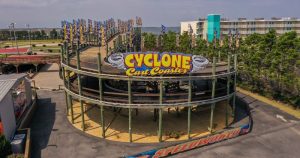 Did you know that Jolly Roger® Amusement Parks is home to the best go-karts not only in Ocean City, MD but also on all of the Eastern Shore? SpeedWorld® maintains bragging rights as the largest go-kart facility on the entire East Coast! If you're looking for thrills, excitement, family fun, and speed, this is the place for you.
SpeedWorld® is located at 30th Street and Coastal Highway. Not sure where to start? Check out our guide to the best go-karts and attractions for your visit to SpeedWorld® in Ocean City, MD. 
SpeedWorld® Attractions in OCMD
Live out your Fast and the Furious dreams on our authentic drift track equipped with some of the fastest cars in the park. You'll be transported to Miami, racing alongside family, friends, or strangers on this tropical-themed course. 
The Future 8 go-kart course is fun for all, especially since being newly renovated in the last few years! Race in the new cars that are tricked out with lights and revved-up speeds. 
You can't miss out on a chance to ride the world's first cart coaster! The Cyclone is over 1500 feet long and five stories tall, a perfect mix of go-karts and roller coasters. 
With an Extreme Ride Ticket, you can race your friends and family on this classic track. Test your skills with these high-speed carts to see who's the pro racer in your crew! 
No one gets left out at SpeedWorld®! Let your little ones race to the finish line and enjoy the thrill of this Kiddie Grand Prix course. 
This course is perfect for the whole family to enjoy! Minimum height requirements are only 48" so even your little ones can race with you towards the finish line. 
Whether you're racing solo or partnering up in a double-seated car, the Super Raceway is a blast with three bridge overpasses, daring turns, and tons of speed. 
The Grand Prix course will help you live out your dreams of being a professional racer! Ages 12 and up can drive a passenger and race with family and friends. 
Looking for the perfect track for your little ones? For ages 3 to 7, the Rookie Track is a blast to ride around and practice their NASCAR skills early. 
Our state-of-the-art track is ready to challenge even the most skilled go-kart driver. Drift through the twists and turns for high-speed fun and friendly competition. 
Additionally, SpeedWorld® is revving up this year with yet another track opening in 2022, our new Family Track! Stay tuned for more information to come!
Ready to make the most of your Ocean City, MD vacation? Learn more about the best go-karts on the east coast here, and explore the other family fun Jolly Roger® Amusement Parks in town!