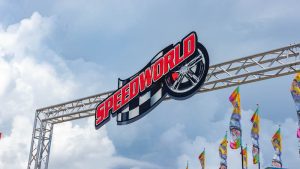 Nestled in the heart of Ocean City, Maryland, SpeedWorld offers an impressive lineup of attractions that promise to ignite your senses and create lasting memories. SpeedWorld is a must-visit destination for anyone seeking an unforgettable adventure. Read on to explore some of the best rides this park has to offer.
For those with a need for speed on solid ground, the Cyclone delivers an adrenaline-fueled racing experience. Strap yourself in and put the pedal to the metal as you navigate a track filled with twists, turns, and hairpin bends. Compete against friends or family to see who can conquer the track and claim victory. Get ready for a wild ride that will leave you with memories of friendly rivalry.
Strap into fun when you take on the Future 8 track. This track is the epitome of figure 8 go-kart racing. Try out a night ride with new cars featuring tricked-out lights, and revved-up speeds!
Formula 1 offers an exhilarating racing experience that will make you feel like a professional driver. Get behind the wheel of a high-speed go-kart and zoom around the track, navigating tight corners and straightaways with precision and speed, creating an unforgettable racing adventure for both beginners and experienced drivers alike.
Super Raceway is a thrilling go-kart experience that will satisfy your need for speed. Take control of a powerful go-kart as you race around the track, maneuvering sharp turns and competing against your friends and family for victory, making it a perfect attraction for racing enthusiasts of all ages.
Whether you're a thrill-seeker or simply seeking a day of fun, SpeedWorld in OCMD is the ultimate destination to unleash your inner adventurer. Brace yourself for an unforgettable experience at this incredible amusement park.
Check out our hours and purchase your passes today!