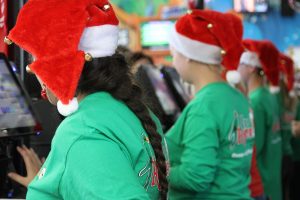 Are you ready to enjoy all of the fun that Jolly Roger Amusement Parks has to offer at half the price? Our World Famous Black Friday Sale is back for 2020 at Jolly Roger on 30th St. We'll admit that this year has been a bit unusual, but one thing you can always count on is Jolly Roger Amusement Parks to bring you the best deals to kickstart your holiday season! 
At Jolly Roger, we take the holidays very seriously. This means we want you to have maximum fun, get the best deals, and feel safe while doing so! Our lines will be socially distanced, masks will be required, and our famous cookie and snack station will feature individually wrapped goodies for you and your family to munch on while spacing yourselves out in line. 
Now that you know we're doing everything possible to keep you safe this Black Friday- you probably want to know what makes our sale so special, right? This year, buy local during our World Famous Black Friday Sale! We're slashing our prices so ALL 2021 Jolly Roger passes are 50% off! 
Purchase passes for the Pier and our 30th Street location, including SpeedWorld, Splash Mountain, Mini Golf, and the Amusement Park! Choose from The BIG Ticket, 2-Hour Armbands, Unlimited Daytime or Unlimited Nighttime Armbands, and more! ALL for 50% off! Give your friends and family the gift that keeps on giving with Season Passes to Splash Mountain so you can cool off all summer long without worrying about the cost! 
Our local experts will be ready to answer any questions you may have about all of our passes, so you can be sure you're getting exactly what you need to have maximum fun in your favorite beach town this upcoming season! 
Have your tickets and ready to go? You don't want to show up without some Jolly Gear! Choose from Jolly Roger hoodies, backpacks, hats, and more all included in our World Famous Black Friday Sale!
Have a Jolly good time with music and LIVE local coverage from Froggy 99.9 while sipping on some free hot chocolate! Or if you'd prefer, warm-up by our firepits while you make your way towards the register with a free cookie and pastry in each hand! This Black Friday Sale is truly an event you cannot afford to miss. 
So what are you waiting for? Set your calendars for our World Famous Black Friday Sale, happening on November 27, 2020, 8:00 am – 5:00 pm! We can't wait to see you! 
Click HERE to RSVP to our Facebook Event! 
At Jolly Roger® Amusement Parks, we are taking enhanced health and safety measures to keep you, our other guests, and all of our employees safe. Please adhere to social distancing guidelines and wear your masks while indoors. Hand sanitizing stations will be available throughout the facility. While our signage and employees provide guidance on safe social distancing, it is up to the guests to follow this guidance in order to maintain the safest possible conditions for all guests and staff members.