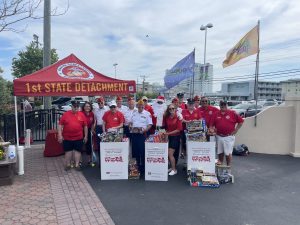 When you think of Christmas, images of snowflakes, twinkling lights, and warm cocoa likely come to mind. But who says you have to wait until December to embrace the holiday spirit? At Jolly Roger Park®, you can experience the enchantment of Christmas in July on July 24 and 25.  
Get ready to don your Santa hat, indulge in holiday treats, and enjoy a unique celebration that brings the joy of Christmas to the summer season. Jolly Roger Park transforms into a winter wonderland in the middle of summer, providing a delightful experience for visitors of all ages. 
The festivities at Jolly Roger Park's Christmas in July celebration go far beyond traditional decorations. You can meet Santa Claus himself to share your summer wishlist and take your free photo! While you're there visit Lollipop the Elf – one of Santa's favorite helpers, who is along for good times and plenty of laughter. Be astonished by Armondo and Marcello from Circus Smile, and the Pirate Theater Christmas show as they perform Special Christmas Editions of their shows at both Jolly Roger Park locations.
Plus, with a $20 donation to Toys for Tots on July 24-25, you will receive a 20% discount coupon on any Jolly Roger Passes, valid July 24-28, 2023. 
Embrace the magic of Christmas in July at Jolly Roger Park, where the warm summer weather blends harmoniously with the enchantment of the holiday season. Whether you're seeking thrilling rides, festive decorations, or delightful shows, this unique celebration offers a memorable experience for the entire family. 
So gather your loved ones, put on your Santa hat, and create cherished memories that will warm your heart—no matter the time of year.
Find the full schedule of events, and visit our parks for another #MyJollySummer!