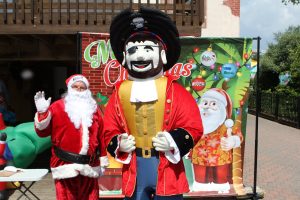 Summer's in full swing and while the weather may be warm there's always time to spread some holiday cheer! Join Jolly Roger Amusement Park for our annual Christmas in July extravaganza! Experience the thrilling circus acts and acrobatic performances at the Pier and 30th Street locations, and much more.
Celebrate our July Christmas Eve (July 24) and Christmas Day (July 25) by bringing the whole family to take a FREE picture with Santa, and donate to Toys for Tots. What better way to spread the summer holiday cheer than donating to a great cause? In years past, the Toys for Tots local program has donated over 7,000 toys to over 4,000 local children. In 2019 Jolly Roger Parks received 177 toys and $5,320 in donations for local families. Learn more about Toys for Tots and its mission. 
Jolly Roger Christmas in July Festivities
Pictures with Santa: Capture long-lasting memories of a time well spent at Jolly Roger with your own FREE photos with Santa! Access your Santa photos here 24 – 48 hours after the event. 
Exclusive Discounts: If you make a $20 donation or more to Toys for Tots on July 24 to 25, you'll receive a 20% discount on any purchase of Jolly Roger Amusement Park Passes to use July 24 to July 27! Visit the on-site Marine Corp Reserves at the Pier or guest services to make your donation.
Fun Events & Performances: At the Pier, after pictures with Santa, watch Circus Smile acrobatics, Dastardly Dave, and visit Lollipop the Clown! Enjoy special Christmas editions of our famous Pirate Theater shows that are free with admission. On 30th Street, catch up with the special holiday edition of the infamous Circus Smile performances.
View the full Christmas in July event schedule here. Get your Jolly Roger passes today and help us spread some jolly cheer this summer! We can't wait to see you!