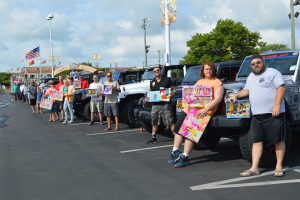 OCEAN CITY – Jolly Roger Amusement Park® officials joined with members of the First State Detachment Marine Corps League and several jeep clubs to celebrate a Christmas in July Toy Drive this week.
On Tuesday, Jolly Roger guests and members of Eastern Shore, Ocean City, Southern Delaware, Infidel Jeepers and Slightly Altered jeep clubs came with toys in hand – and in cars – to celebrate the amusement parks' Christmas in July celebration to benefit the Toys for Tots program.
Guests who brought in a toy or cash donation received a discount at any of Jolly Roger 30th Street parks that day.
The toy drive kicked off with a flag raising ceremony from Pocomoke High School's Marine Corps Junior ROTC Color Guard followed by speeches from Jolly Roger staff and local officials.
Dean Langrall, sales and marketing director, said the Christmas in July Toy Drive is the first event of its kind at Jolly Roger.
"We are excited and delighted to join with the Marine Corps Reserve to make this a benefit for Toys for Tots," he said.
Frank Del Piano, commandant of the First State Detachment Marine Corps League, said the Christmas in July event served as an additional opportunity to collect toys.
"This is the first time we are doing this," he said. "As you all may know, we collect toys during Christmas season for Toys for Tots, but this is an extra one for this year to help all those unfortunate children that don't have the opportunity to have their own toys."
Ocean City Mayor Rick Meehan thanked Langrall and Ocean City Jeep Week organizer Brad Hoffman for taking the initiative to collect toys for children in need.
"It's July 25th and here we are thinking about the beach, the Boardwalk, Jolly Roger and all the fun everybody is going to have in Ocean City, but Jolly Roger is working with the Marine Corps to remember what the 25th of December is all about and also to remember all the kids throughout our area, and really throughout the country, who maybe aren't as lucky as some of us, and how important Toys for Tots really is," he said. "So here we are in July and we are celebrating Christmas in order to support their efforts."
While last year's local campaign distributed 7,241 toys to 4,074 children, Langrall expressed his hopes for a lasting partnership between Jolly Roger and the Marine Corps Reserve for years to come.
"We hope it's successful and we hope it gets some traction to do this every year," he said.