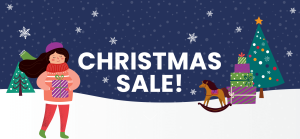 It's the most wonderful time of the year—besides when Jolly Roger Amusement Parks are open of course. As we enjoy the holiday season, we search for the perfect gifts for our loved ones. Summer might not be on your mind yet, but it's always on ours and we want to help you plan the best summer vacation yet!
If you missed our Black Friday and Cyber Monday sales, there's no need to worry. Our Christmas Sale gives you the opportunity to shop ALL Jolly Roger Amusement Park passes for 2023 and get 20% off! Buy online and use the promo code JOLLYELF2023.
Best Passes to Buy at Jolly Roger Amusement Parks
Unlimited Armbands: If you know which park you or your loved ones are looking forward to the most, shop armbands for unlimited rides. Pick from options like the Pier and 30th St day and night passes, 2 PM to 6 PM and 7 PM to 11 PM, excluding the Slingshot. SpeedWorld also has 2-hour armbands for unlimited go-kart rides, excluding Formula One. Level up your fun with 2-hour armbands that include racing around the Cyclone.
Combo Passes: Drive & Splash, Splash & Ride, Drive & Ride—which ones are your favorite? Our combo passes give you the chance to visit two of our parks with one purchase! Get all-day admission to Splash Mountain then enjoy a day armband to the Pier or 30th St. Drive around SpeedWorld then take a dip at Splash Mountain, etc. These combos can be used for multiple days of fun! You don't have to use both on the same day. Whichever combo you choose, you will not be disappointed!
The BIG Ticket: Too hard to pick just one park? Shop for The BIG Ticket and get the best deal Jolly Roger Amusement Parks offers! This pass includes 2-hours at SpeedWorld, admission to the waterpark, and a day ride armband for the Pier and 30th Street that you can use on different days. Talk about a good time!
Passport to Fun: Not sure which park your gift recipient likes best? Buy our Passport to Fun point packages and be prepared for adventures at all parks. Rides, mini-golf, go-karts, and water park admission are all available with the purchase of 40, 90, 180, or even 300 points!
Plan ahead for your summer vacation or give your loved ones the gift of looking forward to time well spent at Jolly Roger Amusement Parks! Whoever you're shopping for, we hope it brings them joy and we can't wait to see you all next year for another #MyJollySummer.