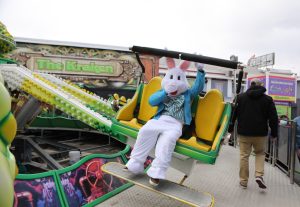 Easter is almost here and at Jolly Roger® Amusement Parks we love getting to celebrate every year with you all! Join us in Ocean City, MD for all of our fun Easter traditions and take advantage of our holiday sale to plan for more trips later this summer.
The 2022 season is on its way and we are ready for it. Check out what we have in store for you Easter weekend when you visit Jolly Roger at the Pier®!
Easter at Jolly Roger® Amusement Parks
Jolly Roger at the Pier® is opening for Easter weekend for all locals and visitors to come and celebrate Easter festivities with us! Kick-off the spring and bring the whole family to enjoy your favorite rides and games. But that's not all! One of our well-known friends will be back to hang with everyone as well.
The Easter Bunny himself will be hopping around the Pier, spreading Easter cheer, and posing for pictures with all who are near! Catch him if you can for festive gifts your kids will love and get your picture taken for a snapshot of your amazing weekend. 
Our Jolly helpers will be there to take your picture and retrieving it is easy! After your photo is taken, our team will upload your photo to our website. Just click this link and enter your email address to gain access to all of the photos taken during Easter Weekend at the Pier. Simply click your photo and download for memories that will last a lifetime! 
Jolly Roger® Easter Sale
Looking for something different to add to your family's Easter baskets this year? Do you like saving money? Are you starting to plan your summer vacation to Ocean City, MD? Do you or someone you know love Jolly Roger® Amusement Parks and want to visit soon? If you said yes to any of these questions, then this sale is for you!
Give the gift of a Jolly Easter with 25% off ALL park passes for the 2022 season when you use the code JOLLYBEAN2022. This is an even bigger sale than last year! Don't miss out on your chance to save BIG and plan to have the best Ocean City trip yet with a fun visit to one of our awesome amusement parks. 
The sale starts March 17 and ends April 14, 2022, so grab those passes while you can and check out our park info for more information about our 5 fantastic locations. We'll see you soon for a #MyJollySummer!