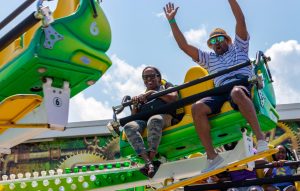 Summer doesn't have to end! We are offering extended summer hours through September, so don't miss out on your last chance to splash, ride, and drive at Jolly Roger® Amusement Parks! Check out our most up-to-date calendar to see when we're open throughout the whole month of September.
While we think it's always a good time to visit Jolly Roger, we've put together some good reasons why you should come visit this September! 
Back to School
At Jolly Roger, we believe that the excitement of summer doesn't have to end with Back to School season here. In fact, this is the perfect time to seize the opportunity for one last hurrah before fall takes over. Our extended summer hours throughout September ensure that the thrill continues, making it easy for families and friends to have an unforgettable time together at Jolly Roger® Amusement Parks!
After-school Adventures
After-school fun awaits you at Jolly Roger! Once the school bells ring, stop by one of our great parks to unwind, have a blast, and create lasting memories with your crew. Our amusement parks offer a safe and exciting environment for kids and parents alike; whether you're competing in go-kart races, catching thrills on the rides, or challenging yourself in our games and mini-golf, there's something for the whole family to enjoy. Treat yourself to after-school excitement that will turn any ordinary weekday into an extraordinary adventure!
Weekend Excitement
Weekends in September are about to get a whole lot more exciting! Jolly Roger® Amusement Parks is your destination for weekend excitement that the whole family can enjoy. Whether you're seeking competitive go-kart races, thrilling rides, or boardwalk games, our parks have it all. With extended hours, you can plan an action-packed weekend getaway that promises non-stop fun for everyone!
Extend Your Summer 
Make sure you don't miss a moment of the extended summer fun at Jolly Roger® Amusement Parks. Check out our up-to-date calendar to plan your visits throughout September. Whether it's a spontaneous after-school adventure or a weekend getaway, we're here to provide you with a fantastic experience that will keep the summer spirit alive. Extend your summer and make September a month to remember at Jolly Roger!
Don't delay! Purchase your passes and extend your summer today!