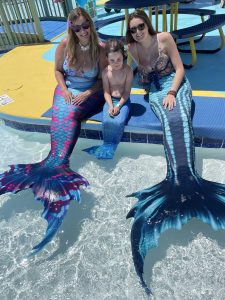 Jolly Roger® Amusement Parks are always a blast but now you'll get even more bang for your buck during your vacation with the FREE events going on all summer long! Jolly Roger has five parks with something for everyone to enjoy. 
Looking for fast racing go-karts? Head to SpeedWorld® for the best around! Want the best view in Ocean City? The Giant Wheel at the Pier is the perfect spot. Looking to cool off on a hot day? Splash Mountain is the place to be! Plus classic rides and attractions at our 30th Street location, and two miniature golf courses for a relaxing round with the family. Check out the free events also happening at your favorite parks.
Summer Events for Free in Ocean City, MD
Enter a whole new world at Splash Mountain Water Park and swim with the enchanting mermaids! Free with admission to the park, you can swim around the Lost Lagoon in the Kiddie Pirate Ship Pool. Come by Wednesday through Sunday from 12 PM to 2 PM.
For good times and laughter, visit Lollipop the Clown at our 30th Street location! Have a good time clowning around with fun face paint and help Lollipop make a special balloon animal just for you. Stop in anytime Monday to Thursday from 7:30 PM to 9:30 PM.
Everyone loves the circus! Take the kids to a one-of-a-kind experience at the 30th Street amusement park. Come see performances from acrobats, jugglers, and other thrilling circus acts, like the wheel of death, and a motorcycle ride on a tight rope. The performances are Monday through Thursday at 5 PM and 9 PM. Friday, Saturday, and Sunday at 5 PM and 9:30 PM.
It's not Jolly Roger without a visit from some pirates! There's a FREE showing of the park's infamous pirates, be on the lookout for plenty of fun and excitement at our nightly pirate shows
You can even be a part of the show! Check it out Monday through Thursday at 7:30 PM and 8:30 PM.
Without Jolly Roger, it's just another day at the beach, purchase your passes and come visit us soon for a #MyJollySummer!