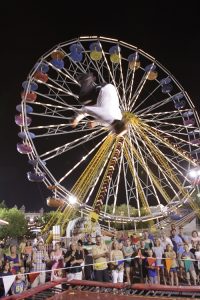 Vacation time is here, and we have FREE family events in Ocean City, Maryland all summer long! At Jolly Roger® Amusement Parks, we missed seeing your smiling faces last year and we're ready to have some fun!
Jolly Roger® is always packed full of fun but what's even better is FREE FUN! Bring the whole family and create lasting memories with events and entertainment for all ages.
Jolly Roger Summer Events
Free Circus: Visit our popular 30th Street location for FREE circus festivities every night. Watch acrobats, jugglers, and other thrilling acts including the Wheel of Death! With two performances each night, you don't have to worry about missing the wonders brought by these high-flying performers. 
Free Pirate Theater: You're in store for interactive entertainment for all ages and it wouldn't be a Jolly event without pirates! Steer your ship to Pirate Theater shows happening twice a night all season long.
Lollipop the Clown: Visit our good friend Lollipop the Clown Monday through Thursday nights for face paint, balloon animals, laughter, and overall silliness your kids will love!
Splash Mountain Mermaids: Have you ever wanted to swim with mermaids? Well, now you can with Splash Mountain's FREE Mermaid swims starting July 2 from 12 pm to 2 pm. Come on out Monday, Wednesday, Friday, Saturday, or Sunday in the Kiddie Pirate Ship area for this once-in-a-lifetime experience! (Free with purchase of a wristband to Splash Mountain waterpark on those days.)
Of course, along with these exciting events, Jolly Roger® Amusement Parks have tons of thrilling rides, fun games, and activities for the whole family to enjoy. Summer is here so purchase your passes today! 
We can't wait to have another #MyJollySummer!