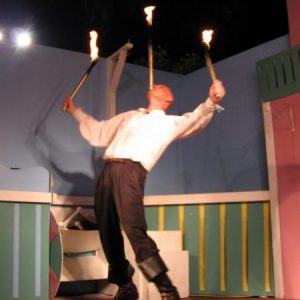 Throughout the year at Jolly Roger, we offer great specials, deals, and ways to save on your trips to the different amusement parks. But, that's not all. We also have FREE events and entertainment for you and the whole family all season long!
Have you seen the circus? Take a step back from the thrill and excitement of roller coasters and rides to watch acrobats, jugglers, and other entertaining circus acts at our 30th St. location. Starting July 1, the Free Circus at Jolly Roger Amusement Park will take place twice daily at 5:00pm and 9:30pm.
Now is your chance to see the park's infamous pirates from  Jolly Roger Park at 30th St. and around Ocean City. This FREE show is perfect for the kids. Sail over to one of the two nightly Pirate Shows, available weekdays, Monday through Thursday, at 7:30pm and 8:30pm. Keep your eyes peeled and be on the lookout for plenty of fun and excitement at our nightly pirate shows. Who knows… maybe you will even get to be part of the show!
Lollipop the Clown will be at the 30th Street Amusement Park Monday through Thursday from 7:30 to 9:30 pm, starting June 11th! Come by for some balloon animals, face painting, and laughter with Lollipop this summer.
With admission to Jolly Roger Splash Mountain, the world is your oyster. Take a dip in the Kiddie Pirate Ship Pool and swim with the mermaids, for free! They'll be handing out bracelets to children and decorating their faces with glitter. This year, the mermaids will be at Splash Mountain Waterpark every Wednesday-Sunday from 12-2 pm.
And of course… Free Parking!