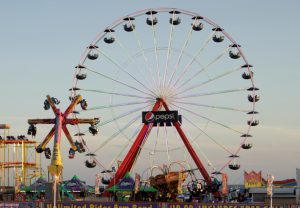 September is the perfect time to plan your visit to Ocean City, Maryland. The weather is still warm, the boardwalk is still open, and the crowds have eased up! Residents of Ocean City call this Locals Summer, and at Jolly Roger, we couldn't be happier to stay open to see some familiar faces and be apart of all the fun!
At Jolly Roger, we are firm believers that the fun shouldn't end when the school bells ring! That's why we invite you to join us at Jolly Roger at the Pier this September to enjoy the beach and the rides without the in-season crowds!
Take a ride this September on Ocean City's legendary Giant Wheel! Ride to the top and take in the breathtaking views of Ocean City and the Atlantic Ocean as far as your eyes will take you- you might just spot a pod of dolphins splashing in the waves, or boats bringing in the catch of the day!
If you've ever been to the boardwalk, then we know you've heard the screams of excitement and laughter coming from the Slingshot! Test your courage and take a ride, the Slingshot catapults it's victims into the air, and is an experience that you do not want to miss! The Slingshot is the ultimate daredevil thrill ride that you will never forget!
Pour yourself into a whirl of fun when you take a ride on the Teacups at the Pier! This classic ride is fun for all ages, turn the wheel fast and hold on for a crazy ride! Or if getting dizzy is not your cup of tea, turn the wheel slowly, or not at all, and enjoy revolving gently around the table. 
While you're there, make sure you grab a bucket (or two) of Thrasher's legendary French Fries! Take advantage of the short September lines, and get your bucket filled in an instant! At Thrasher's, tradition rules and quality reigns supreme, which means that your fries will always be hot, fresh, and delicious!
After Labor Day, we implement our off-season hours. Jolly Roger Splash Mountain and the rides at 30th Street are closed for the season, however, the Pier, SpeedWorld, and Jolly Roger Mini Golf will remain open under special hours. 
Monday, Sept. 9 – Thursday, Sept. 12
All Parks are CLOSED except Mini Golf
Mini Golf: 11am – TBD
Friday, Sept. 13
Mini Golf: 11am – TBD
SpeedWorld: 5pm – TBD
The Pier: 5pm – TBD
Saturday, September 14 – Sunday, Sept. 15
SpeedWorld: 10am – TBD
Mini Golf: 10am – TBD
The Pier: 12pm – TBD                    
These hours will reflect until October 6th!