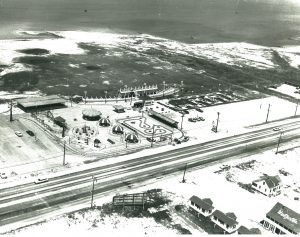 Jolly Roger Parks® is celebrating 50 years in Ocean City on Tuesday with a ceremony at its flagship amusement park on Coastal Highway.
Charles "Buddy" Jenkins, the founder and owner, laid the groundwork for Jolly Roger Parks in 1964 when he met renowned golfer Arnold Palmer and collaborated with him to open the Arnold Palmer Putting Course and Driving Range on 30th Street.
During the years that followed, Jenkins added several rides and attractions to the property, and in 1974 he acquired the rights to open a second amusement park on Ocean City's downtown pier.
Since then, Jolly Roger's rides, miniature golf courses, Speedworld® go-kart tracks and Splash Mountain waterpark have been major attractions for beachgoers.
"It's really become one of the iconic landmarks in town," said Dean Langrall, Jolly Roger's director of sales and marketing.
Jenkins has continued to renovate the parks and update them with new attractions. Recent additions include a zip-line course at Speedworld in 2010 and the Aqua Loop waterslide at Splash Mountain in 2011.
Jenkins will receive a key to the city from Mayor Rick Meehan at Tuesday's ceremony. In addition, Sen. James N. Mathais Jr. will read a proclamation from Gov. Martin O'Malley honoring Jenkins' decades of service to the Ocean City community.
Langrall said he thinks the Jolly Roger experience never gets old, and he has seen beachgoers who enjoyed the parks when they were young bring their children and grandchildren back.
"We're awfully proud that we've had 50 years of family fun," he said.