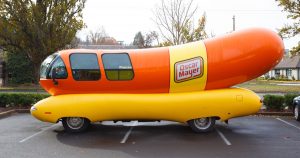 Jolly Roger® at the Pier Welcomes the Oscar Mayer Wienermobile to Ocean City, MD! 
The Oscar Mayer Wienermobile has hit the coast and is making a stop at the Jolly Roger Pier® in Ocean City, MD on Saturday, February 27, from 12:00 pm – 2:00 pm. The iconic 27-foot-long Wienermobile will be at the Pier to link up with Ocean City favorites such as Thrasher's® French Fries, Ripleys Believe It or Not, all hosted at Jolly Roger® at the Pier. 
"A National Treasure and a Local Treasure coming together for a Saturday afternoon at the Pier? What could be better? Thrasher's® French Fries and the Wienermobile are the ultimate combo!" – Chris Richardson, Jolly Roger Parks
Hotdoggers Relish Rachel and Saucey Spence will be at the Wienermobile to hand out those famous Wiener Whistles, hats, t-shirts, and more! Although the Wienermobile won't be selling hotdogs, small groups may be able to tour the Wienermobile, which is exactly 60 hotdogs long and 18 hot dogs wide.
Enjoy an afternoon in OCMD by celebrating the original gourmet hot dog, the best french fries in the world at Thrasher's, Ripleys Believe It or Not museum, and weather depending there may even be some special games opened up at Jolly Roger® at the Pier to kick-start the season! 
I mean, if we're being frank with you, this is one event at the Ocean City Pier that you will relish for a lifetime! 
The Wienermobile is coming to OCMD and the surrounding area from Monday, February 22 to Sunday, February 28. There are six Wienermobile Vehicles operating in the US, with 12 Hotdoggers making up the 33rd class. The Wienermobile is on the road 48-weeks out of the year and stops in one-city per week.