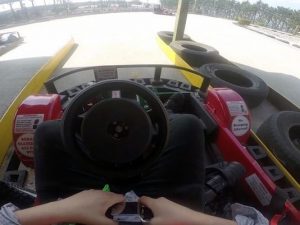 Photographer Joe Lamberti is buckled in for Jolly Roger SpeedWorld's® new Cyclone Cart Coaster Monday, May 18 in Ocean City.(Photo: Staff photo by Joe Lamberti)
Reporter Jon Bleiweis and photographer Joe Lamberti race around Jolly Roger SpeedWorld's new Cyclone Cart Coaster track with Dean Langrall, director of sales and marketing with the park Monday, May 18 in Ocean City. Produced by Joe Lamberti
"We call it a cart coaster because it really is like a roller coaster except it's with go-carts where you control your own speed."
Take the thrill of a roller coaster and the competitive spirit of a go-kart.
Put them together and you have the Cyclone, what is being billed as the world's first cart coaster, and it's here on Delmarva — at Jolly Roger Amusement Park's® Speedworld in Ocean City.
Construction on the five-story attraction started the day after Labor Day and finished around the end of the year, according to Dean Langrall, director of sales and marketing for Jolly Roger Parks.
The wooden course, at more than 1,500-feet long, was built with 22,320 square feet of lumber, 78 pilings and 83,000 stainless steel bolts.
"We call it a cart coaster because it really is like a roller coaster except it's with go-carts where you control your own speed," he said. "If you're in a roller coaster, the speed is controlled for you."
Jolly Roger bought 40 new go-karts — half single seater carts and half two-seaters — for Cyclone. At 9.5 horsepower, the vehicles have twice as much power as their regular cars.
The course is wide enough for three-wide racing, Langrall said, adding all 40 cars could be used at one time, if need be.
That horsepower is needed right at the start of the ride, as the driver drives up, in a spiral, five stories before emerging onto a straightaway in the open with a small hill. Drivers then race down a second similar spiral structure to get back to ground level.
The typical race will be three to four laps long, Langrall said, who added the ride's top speed is unknown.
Cyclone is the park's latest way to try something different and stand out from the competition, he said.
"This is about as much excitement as we could get on the piece of property that we had," he said, adding two tracks were knocked down to accommodate the building of Cyclone.
While the official ribbon cutting and grand opening of the attraction is set for Friday, Cyclone has been in a soft opening phase for several weeks, Langrall said.
Giving the ride a try recently were Steven Maietta and his 5-year-old niece, Kylie from Long Island, New York, who exited the ride impressed and excited, as they had two more chances to ride it again already purchased.
Steven Maietta, who has visited the park for years, said Cyclone makes it worth coming to SpeedWorld again.
"The corkscrew going up and down, it's fun, it makes you feel like you're going really fast," he said. "When you go over the hill, it feels like you're going to leave the air — that's how fast — then you're coming down and it's just as much fun as going up. It's a really good time."
Kylie was looking forward to another chance to take on the track.
"I like fast," she said.
One must be 58 inches tall and 12 years old to drive a single cart, 58 inches tall and 16 years old to drive a passenger cart and 36 inches tall to be a passenger.
jbleiweis@dmg.gannett.com
443-210-8125
On Twitter @JonBleiweis and Facebook at Facebook.com/byjonbleiweis
IF YOU GO
CYCLONE
When: Open daily at 10 a.m.
Where: 30th Street and Coastal Highway, Ocean City
Call: 410-289-3477
Web: JollyRogerPark.com
Cost: $9 per ride, $5 for passengers; also part of package deals; free admission into the park