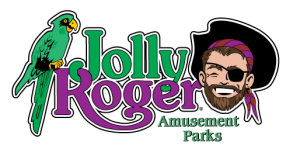 In 1964 Charles "Buddy " Jenkins and Arnold Palmer's manager, Mark McCormick met…Jenkins owned a large parcel of bayside property in Ocean City MD and Palmer-the reigning "King" of golf at the time was developing Driving Ranges and Miniature Golf courses.
Jenkins purchased a franchise and in July 1964 opened the Arnold Palmer Putting Course and Driving Range. The following year, he added 10 Amusement Rides and over the next several years Jolly Roger Park® established itself as a major tourist attraction in the seaside resort.
In 1974, Jenkins purchased The Ocean City Pier Company and a multi-million dollar renovation added new rides and attractions. This would later become known as Jolly Roger at the Pier
Over the years, Jolly Roger Parks added a wide array of attractions-a full scale Amusement Park, several live shows, hosted the Flying Wallendas, The Royal Hanneford Circus, and The Parker Playhouse. But most importantly in the early 1970's at the 30th St location added a Go Cart Track and a concrete water slide that were the beginnings of Speedworld®-now home of one of the largest collections of go carts and tracks in the country with over 11 Tracks and 400 cars…And Jolly Roger's crown jewel, Splash Mountain Water Park-named the Best Small Waterpark on the east coast by Funworld Magazine, the Amusement Industry's leading trade magazine.
As Jolly Roger Parks celebrate their 50th Anniversary this summer, these family owned and operated Amusement Parks have become a tradition of family fun for generations of tourists. Jolly Roger Amusement Parks has constantly reinvented itself and evolved to bring the best amusement values to Ocean City, it's visitors and guests. And it's 36 acres comprise the best of nostalgic rides and new cutting edge attractions from all over the world…it has truly become an Ocean City landmark.