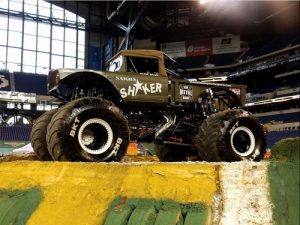 With 10 different tracks, Jolly Roger Speedworld in Ocean City holds the title of the largest go-kart facility on the East Coast. A brand new way to fulfill your need for speed and thrill has made its way to the well-known amusement park, and is open for business!
Make your way over to Speedworld this Summer 2019 to take a ride on Jolly Roger's newest attraction: The Shaker Experience.
Speedworld
With the newest, coolest racing technology, and exciting tracks and speedways throughout the park, Speedworld is home to the East Coast's only Formula 1 Track. Along with racing to the finish line on the fastest track at Ocean City's biggest Amusement Park, you can now enjoy the newest addition to the park: the Eastern Shore's ONLY Monster Truck.
The Shaker Experience
More than twice the height of an average person, this Monster Truck is not messing around! The Kaiser Jeep M715 is a 1600 Horse Power (HP) vehicle with 66″ tires, standing 12 feet tall and 11 feet wide.
Consider yourself a thrill seeker? This ride was made for you! The Shaker Experience Monster Truck has a 557 cubic inch blown alcohol engine and is sure to give you an experience like no other.
Be sure to take a ride during your next visit to Jolly Roger Speedworld!