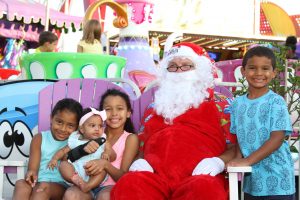 What a year 2021 has been for Jolly Roger® Amusement Parks, our Ocean City, MD community, and the world. As 2022 approaches, our Jolly Roger team is taking time to step back and reflect on the ways our community came together during these unprecedented times with encouragement, support, and positivity. 
Besides having patrons back visiting our parks and having a blast, here are a few of our favorite local events throughout the year that we were honored to host.
Making Prom a Reality
With the unconventional school year, many high school seniors were devastated to realize their prom experience was most likely canceled. As an outdoor park, with plenty of space to spare, Jolly Roger volunteered to host an 'UnProm' evening for the students of Parkside High School located locally in Salisbury, MD. 
The amusement park was decked out with food trucks, picture displays, backgrounds donated by local businesses, and so much more for the attendees. With donated and discounted passes, it was a jolly time to see more than 200 students spend their "prom" night with mini-golf, go-karts, and yard games, while dressed to the nines and celebrating their end-of-year celebration with their friends. 
Christmas in July with Toys for Tots
Jolly Roger loves to celebrate Christmas not once, but twice a year! Partnering with the Marine Corps Reserve Toys for Tots program, our team plans the exciting 'Christmas Eve' and 'Christmas Day' events on July 24th and 25th. Unwrapped toys and monetary donations for the program were brought by patrons in exchange for a 20% discount on all Jolly Roger purchases from park passes to apparel. We loved the opportunity to get into the holiday spirit early and give back to thousands of local families. 
Giving Tuesday with Diakonia Inc.®
Jolly Roger's first Giving Tuesday was a success while partnering with Diakonia, a local nonprofit organization that provides assistance for homeless men, women, and families in the Ocean City area. Giving Tuesday is a global giving moment that takes place across the U.S. and around the world on November 30th, embracing the day as a time to support others and raise money for organizations like non-profits, local charities, and more. As a prominent local business, giving back is important to us at Jolly Roger and we have enjoyed every opportunity to give back to the community where we live, work, and play. 
The Jolly Roger® Amusement Park team thanks each and every guest who attended our parks this year, bought park passes, supported us, helped contribute to these events, and more. While there is still time in the year, don't forget to check out our Christmas Sale and take advantage of 20% Jolly Roger Passes! We can't wait to see you all in 2022.
Have a Jolly Holiday!