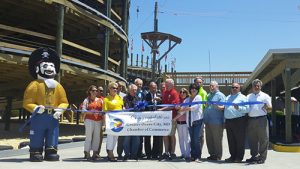 OCEAN CITY – Jolly Roger® celebrated the opening of its latest addition of the Cyclone Cart Coaster in Speedworld® last Friday with a ribbon cutting celebration.
"Every year we try to add something new and exciting. We started brain storming and we thought to ourselves, what can we do to combine the excitement of go cart racing with a roller coaster … and that's where we came up with the Cyclone. It is the world's first cart coaster. Unlike a roller coaster where someone else controls your speed, you drive it and you control your own speed but just like a roller coaster it goes up, comes down and all around," Jolly Roger Parks Director of Sales and Marketing Dean Langrall said. "We have this big monstrosity. You can't miss it when you come through the doors."
The coaster is over 1,500 feet long and five stories tall made of 78 pilings, 83,000 stainless steel bolts, and 22,320 square feet of lumber with 20 new go carts available to drive. The west tower essentially has four loops heading up reaching the top where spectacular views of the bay can be seen. The track then turns east toward the ocean where the carts descend down the east tower with another four loops.
"There are other wooden go cart tracks. In fact, my understanding is back when go carts first made their appearance in the United States all of the tracks were wooden but this is certainly the only one this high and in this dynamic," Langrall said. "It is what we call an extreme attraction … it is just one of those things that people are going to enjoy. It is certainly different and unique for 2015."
Greater Ocean City Chamber of Commerce Executive Director Melanie Pursel recognized Jolly Roger is always adding the latest and greatest attractions to their parks, such as the most recent attractions of the zip line and Aqua Loop.
"The great thing about this park, Jolly Roger, they are constantly adding new attractions and improving guest experiences, especially the guests that come year after year," Pursel said. "This [Cyclone] is so unique in it being the first go cart coaster in the universe putting Ocean City on the map. It is really exciting … it takes go carting to a whole new level, literally."
The Cyclone is an outstanding attraction to be put forth for Ocean City's visitors, Ocean City Tourism and Marketing Director Donna Abbott said.
"The Jolly Roger crew is always coming up the latest and greatest, and this is certainly something that our visitors are going to love," she said.
Mayor Rick Meehan, along with many other city officials, took the opportunity to ride the Cyclone for the first time along with family and friends.
"It is unlike any other ride in Ocean City, and it is certainly unlike any other cart ride I have been on. You go up so high, and the surface actually changes from concrete to wood just like our Boardwalk. It is a completely different feeling. The turns are certainly sharp and you can build up a lot of speed. It is a great ride," the mayor said as he got off the Cyclone. "It helps add to the Ocean City experience. Everybody always asks, what's new? Well now we have the best new ride, and it is certainly an added asset to this beautiful park."
Another new attraction at Jolly Rogers on 30th Street this year is a roller coaster, the Wildcat that will be open in the next couple of weeks. Also continuing this year in July and August is Jolly Roger's free circus that occurs every night, twice a night. This year the circus will be headlined by the Flying Wallendas.
"We are looking forward to having them here and offering a free circus, keeping family entertainment valued, which we have done so long," Langrall said.