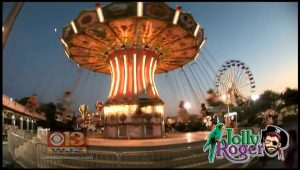 OCEAN CITY, Md. (WJZ) — Ocean City is an iconic destination, full of attractions new and old. Here's a look back at how it transformed into one of the most popular beach resorts in the country.
Jolly Rogers® is the place thrill-seekers go to indulge. Just a step off the sandy shore, you can reach breathtaking heights. The amusement park is an Ocean City landmark and, since opening in 1964, has grown dramatically.
"We are one of the iconic destinations here in town and we have a responsibility to the town and our guests to keep things nice, keep 'em clean, keep 'em fun," said Jolly Rogers Director of Sales Dean Langrall.
Jolly Rogers started as a miniature golf course more than 50 years ago. Today, it offers a Ferris wheel, dozens of rides, games, go-karts and so much more. It expands to keep up with the number of visitors.
"There's nothing like driving across the bridge, having the windows rolled down, smelling the salt water," said Mike Cammarata. "It just brings back memories."
An Ocean City tradition that keeps generations returning.
"Important to offer our guests new things and I think Ocean City has continued to do that: keep growing, keep changing but also keep being that favorite beach destination people love," said Ocean City Communications Manager Jessica Waters.
A love that makes Ocean City one of the favorite beach towns on the Eastern Shore.
"Enjoy the traditional walk on the boardwalk, eating Thrashers fries, but you have got to add a little pop and sizzle once in a while," Langrall said.
Memorial Day weekend is Ocean City's kickoff to summer. More than a quarter million people are expected to visit this holiday weekend.