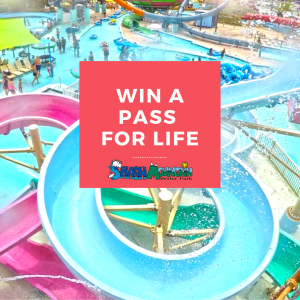 Don't miss out on our biggest promotion of the summer! Every week until September 23, enter to win big at Jolly Roger Amusement Parks!
Enter just once this summer and you have the chance to win every week AND get entered into our Grand Prize – a pass for LIFE to Jolly Roger Splash Mountain!
Each Monday one lucky winner will win four water park passes ($169 value) to Splash Mountain. Enter just one time and you could win any week this summer! All entries will be entered in the Grand Prize Drawing to be announced on Labor Day. The weekly winner will be announced every Monday on our Facebook page until the Last Day of Summer, September 23.
What's better than spending the rest of your summers soaking up the sun at Splash Mountain? Getting it all for FREE!
Unwind and spend the dog days of summer floating along our 1100-foot, slow-moving Lazy River, enjoy drifting along before catching your favorite ride, or hopping back into our Wave Pool to enjoy all the benefits of the ocean without the salty water!
Anticipate the thrill of a lifetime on our Aqualoop – hailed by Popular Mechanics as the #1 waterslide in the country, the Aqualoop is a fan favorite that offers a one of a kind experience. Listen to the countdown before the trap doors open up and send you plummeting feet-first 480 feet before splashing into the water below!
No matter your speed, Splash Mountain has the perfect fit for you and the entire family! And the best part is- we are constantly adding fun and exciting new attractions!
And don't forget- when you enter our Pass for Life Contest, you get the chance to experience all that we have to offer every single summer for FREE!
Entering is easy! In two simple steps you will be entered into our weekly drawing for four Jolly Roger Splash Mountain passes, which automatically enters you in to win the Grand Prize of a Lifetime Pass to Splash Mountain!
All you have to do is submit this form and like ExploreOC on Facebook!
It really is just that simple!