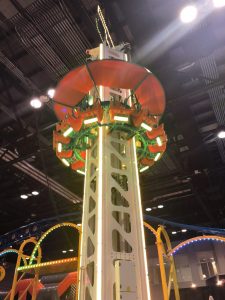 There's something new coming to Jolly Roger Parks in Ocean City, Maryland this summer! In 2019 we saw additions such as the Barracuda roller coaster and the Drop and Twist at 30th St. 
As we count down the days until the opening weekend, and summer 2020, we're excited to see what the new year will bring to Jolly Roger Amusement Parks. 
Jolly Roger at the Pier
The Drop & Twist at the Pier will send you spiraling up 45 feet and back down again as you drop and rotate all the way to the bottom. This ride is sure to quickly become an Ocean City boardwalk staple!
Experience new thrills on the Freestyle 360! This new ride at the Pier will take you full-circle on a 360-degree spin, looping through the air. Come to a screeching halt at the top of this new thrill ride where you'll continue to rotate as you hang upside down. Check out the Freestyle 360 as the sun begins to set, where you'll be captivated by hundreds of flashing lights.
Jolly Roger at 30th Street
Every pirate needs a ship, and that includes Jolly Roger! A classic Pirate Ship ride is coming to Jolly Roger 30th Street. Grab your pirate crew and head to 30th St. to search for buried treasure and sail the ocean blue on the legendary Pirate Ship ride. 
What are you waiting for? Purchase your 2020 Passes today!