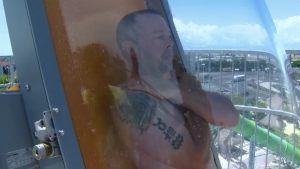 OCEAN CITY, Md. (WJZ) — A new water slide in Ocean City drops swimmers dozens of feet below. The Aqua Loop opens for the first time this holiday weekend.
As Gigi Barnett reports, it was named the number one water slide in the nation.
Some Ocean City visitors want a quiet weekend at the beach on Memorial Day weekend. Others opt for a thrill ride.
It's called the Aqua Loop. Swimmers find it at Jolly Roger Amusement Park®. The ride debuts this weekend.
READ: More Than 250K Expected In Ocean City This Memorial Day Weekend
"You're going 37 miles an hour with nothing but your swimming trunks on, so that's gotta say something," said Jolly Roger General Manager Steve Pastusak.
At the top of the platform, riders step inside, arms crossed and head up. In three seconds, the trap door opens. One monster loop leads to a splashout at the end.
"That's awesome," said one.
Swimmers shoot down at 37 miles an hour. That force will take them around a loop. You can't find this ride anywhere else on the East Coast.
"The reactions, the looks on their faces—it's just a really great ride," Pastusak said.
It's just the kind of holiday thrill some swimmers seek.
The Travel Channel named the Aqua Loop one of the top three summer thrills this year.
As Memorial Day Weekend 2015, is underway, 250,000 people are expected in Ocean City, Md.