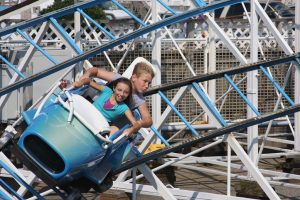 Everyone loves new things, especially all of us here at Jolly Roger Amusement Parks! 2019 has brought a few new, exciting rides and things to do at Jolly Roger in Ocean City.
From the Pier to the 30th Street location to Speedworld, there are FOUR new rides and attractions to enjoy this summer with your family and friends.
We have added a FOURTH rollercoaster to the 30th St. location! Come ride the Wacky Worm, the Sea Serpent, the Wild Cat and now the new Barracuda.
The newest roller coaster, the Barracuda, is a Flitzer style, steel ribbon that will take you on an exciting adventure! Take the family for a ride full of drops, turns, and of course, screams! While this is a family-friendly ride, it's definitely packed with thrill and excitement.
Ahoy, Matey! What's better for Jolly Roger and all of our pirates than our very own Pirate Ship at the Pier! As they say, you can "sail the Ocean Blue" – right on the Atlantic Ocean! This ride is perfect for the younger kids, but also a great family-friendly ride for the whole gang!
The name of this new ride at 30th St. says it all! Grab up to seven friends and family members and head 30 feet into the air for some excitement, and a priceless view of the park! This ride is perfect for the kiddos!
NEW TO SPEEDWORLD: The Shaker Experience! As Seen On TV, this Kaiser Jeep M715 is a 1600 Horse Power (HP) vehicle with 66″ tires, standing 12 feet tall and 11 feet wide.
Take a ride on the Eastern Shore's ONLY Monster Truck. This new attraction is for thrill seekers, with a 557 cubic inch blown alcohol engine.
Since 1964, Jolly Roger Amusement Parks have been bringing excitement and family fun to visitors and locals in Ocean City, Maryland, continuing to add new rides and attractions each year! Don't miss the newest additions at 30th St., Speedworld, and Jolly Roger at the Pier.