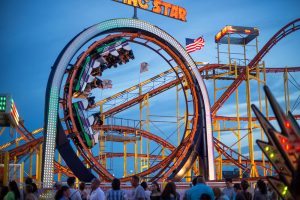 That's right folks! It's that time of year again when the Ocean City MD pier on our famous Boardwalk is open. Head on over to Jolly Roger at the Pier® near the inlet for a family fun experience during your Ocean City, MD vacation.
For now, we're open on the weekends, so make the most of it and buy your passes online ahead of time. Which rides are you heading towards first? Whether you're in it for speed, spins, heights, or thrills, the Pier has it all. Check out some of our most popular attractions and plan out which rides you have to try!
Jolly Roger at the Pier® Rides
Kraken: Whip through the sky, over the crowds, and the ocean on the Kraken's tentacles. The height requirement is 48" or 42″ with a responsible adult.
Tea Cups: Go for a spin on our classic crazy-colored tea cups. The Tea Cups are a must when you visit the Pier to relive old and create new memories as a family. The height requirement is 36" or with a responsible adult.
Hurricane: Ride the Hurricane, the fastest ride on the Pier. It's no secret that the Hurricane is a crowd favorite with whirling lights and fun music. The height requirement is 48".
Looping Star Roller Coaster: This Pier coaster will have you coming back for more. Strap in and get ready for high-speed flying around the looping track. The height requirement is 55" or 49" with an adult of at least 18 years of age.
Giant Wheel: Catch the best views of Ocean City and the beach while you're perched high on our famous Giant Wheel! Requirements are 12 years old or with an adult, there are no single riders.
Slingshot: Are you brave enough to try out the Slingshot? Catapult into the sky high above the Boardwalk. This is the ultimate bucket list item for thrill-seekers in Ocean City, MD! Special Requirements include a height of 44″ and combined rider weight must exceed 150 lbs. 
Pirate Ship: Jolly Roger has to have a pirate ship of course! This is the perfect first ride for young pirates to rock back and forth, imagining that they're sailing across the Atlantic Ocean.
Carousel: The double-decker Venetian carousel is a beautiful sight to see and even more fun to ride! Jump on and catch the perfect photo op with your family. Height requirements are 42" or with a responsible person. 
If these caught your attention, make sure to check out our full list of attractions here. View our park hours to know when to stop by and see us at Jolly Roger at the Pier®!