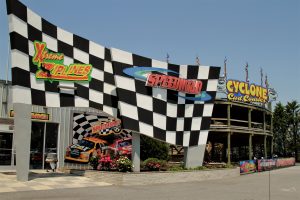 Thousands of tourists flood Ocean City, Maryland every year primarily for the beach and boardwalk, occasionally stepping out for a game of mini golf or dinner.  Little do they know, there is a gold mine of potential for extra family fun right under their nose! Jolly Roger Amusement Park is a destination, not just a location.
Why Visit Jolly Roger in Ocean City?
Find all of your favorite summer vacation activities in one place!
Jolly Roger is your destination for fun! All of your favorite summer activities are located near one another. With the Amusement Park, Speedworld, Splash Mountain, and Mini Golf all in one place it makes easy for families to park in one convenient location for a full day of fun. The locker rooms have shower access making it easy to quickly change and head from one park to another. In addition to that, the Passport to Fun option gives guests points to use towards visiting any of the park locations which means you never have to stay in one place doing the same thing for too long! This also gives families a great deal of flexibility with how they choose to spend their day.
Close to the beach.
The Park is in the heart of Ocean City and is in extremely close proximity to the beach! The atmosphere is amazing. In fact, Pier rides and games are practically on the beach right off of the boardwalk but that's a point we will get to next on the list. On 30th Street not only are you spending a day doing the things you love- riding rides/slides, playing games, racing go-karts and having a blast, but you're doing it in a place you love taking it all in at the same time. It's a win-win!
Enjoy rides on the boardwalk and the Pier.
Jolly Roger at the Pier is literally on the beach. Some of the best views have been seen and captured from the top of our Ferris wheel looking out to the Atlantic. The smells of salt water and boardwalk food permeate your nose as you walk through either location. This is why people come back! This is where nostalgia takes place and memories are made. It is the essence of what makes Ocean City such a unique and special place to visit for so many and Jolly Roger Amusement Parks is proud to be a part of where so many good memories are made.
Unique rides and experiences found nowhere else.
There are certain experiences you'll have at Jolly Roger Amusement Parks that you wouldn't find just anywhere. What are they you ask? At Speedworld you will find the WORLDS ONE AND ONLY go-kart roller coaster known as the Cyclone Cart Coaster! The attraction is over 1,500 feet long and approximately 5 stories tall. It uniquely fuses together two of the parks more popular amusements:  go-carts and roller coasters. Visitors can hop into one of the 40 carts on the track and expect a ride packed with twice the horsepower of their other regular carts. It's definitely a racing experience like no other!
At Splash Mountain you will find yet another unique draw to the park which is the Aqua Loop! Hailed as the # 1 waterslide IN THE COUNTRY by Popular Mechanics, the Aqua Loop is the only one of its kind on the East Coast. This state-of-the-art enclosed 360 degree, semi-transparent, looping waterslide begins with an anxiety-ridden countdown before a trap door opens and sends you plummeting down feet first, Wile E. Coyote style, 480-feet before splashing into the water below. Some people even say it's the most exhilarating thing to do here in Ocean City!
Fun for all ages: Bring the whole family!
Jolly Roger has something for everyone to do no matter the age! Kids can enjoy the Youth Adventure Area, Tea Cups, Fun Slides, Wacky Worm, and so much more while teens and with adults can hop on some of the more thrilling rides such as the Wild Cat and the Spyder! Then, of course, there are activities such as the free circus, fun with Lollipop the Clown, swimming with the Splash Mountain Mermaids, playing arcade games, and so on that the family can all enjoy together! From games to rides, to play areas and everything in between Jolly Roger creates an all-inclusive family bonding experience where you and your family can make memories for a lifetime.
Exhilarating excitement for thrill seekers.
Thrill seekers have plenty to try at Jolly Roger. We've already mentioned the Spyder, Cyclone and Aqua Loop, but did you know the Jolly Roger is also home to Ocean City's ONLY Zipline! Guests can soar over the park from 60 ft. in the air in this exhilarating and unique experience while taking in breathtaking views of the bay, beach, and Ocean City! The 1,000 ft. zip line has 4 stations where you'll find fully trained guides that will lead you though.  It's like no other experience in Ocean City!
Jolly Roger is always growing!
Jolly Roger is always growing and expanding! If you look at the timeline of the park, new and exciting additions are being made frequently. Jolly Roger originally opened as Arnold Palmer Miniature Golf Course and Driving Range on 30th Street in Ocean City back in 1964, and has now expanded to include the Amusement Park, Splash Mountain, Speedworld with Xtreme Ziplining, and the Pier location. With 35 acres of the best of nostalgic rides and new cutting edge attractions, Jolly Roger is a true destination for fun.