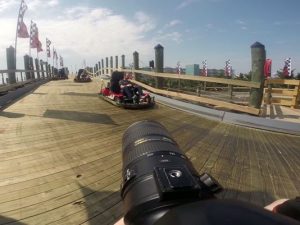 Photographer Joe Lamberti shoots reporter Jon Bleiweis and Jolly Roger's Dean Langrall as they cruise through Jolly Roger SpeedWorld's® new Cyclone Cart Coaster on May 18, 2015, in Ocean City, Md.(Photo: Joe Lamberti, The (Salisbury, Md.) Daily Times)
With the thrill of a roller coaster and the competitive spirit of go-karts, the Cyclone is being billed as the world's first cart coaster.
OCEAN CITY, Md. — Take the thrill of a roller coaster and the competitive spirit of a Go Kart, put them together and you have the Cyclone, billed as the world's first cart coaster.
Construction of the five-story attraction at Jolly Roger Amusement Park® here started the day after Labor Day and finished around the end of the year, according to Dean Langrall, director of sales and marketing for Jolly Roger Parks.
At more than 1,500 feet long, the wooden course was built with 22,320 square feet of lumber, 78 pilings and 83,000 stainless steel bolts.
"We call it a cart coaster because it really is like a roller coaster except it's with Go Karts where you control your own speed," he said. "If you're in a roller coaster, the speed is controlled for you."
The seven most-anticipated new theme park rides in 2015
Jolly Roger bought 40 new Go Karts — half single-seater carts and half two-seaters — for its Cyclone. At 9.5 horsepower, the vehicles have twice as much power as the park's regular cars.
The course is wide enough for three-wide racing, Langrall said, adding that all 40 cars can be in use at one time.
Cyclone Cart Coaster
Jolly Roger Amusement Park in Ocean City claims to have the first attraction that combines Go Karts and roller coasters.
Size. More than 1,500 feet long, 5 stories tall.
Cost. $9 per ride, $5 for passengers. Drivers must be 12 years old and 4 feet, 10 inches tall, age 16 to take a passenger; passengers must be 3 feet tall.
Hours. 10 a.m. to 11 p.m. Memorial Day weekend.
Address. 30th Street and Coastal Highway, Ocean City, Md.
That horsepower is needed right at the start of the ride, as the driver travels up five stories in a spiral before emerging onto a straightaway in the open with a small hill. Drivers then race down a second similar spiral structure to get back to ground level.
A typical race will be three to four laps long, Langrall said. The ride's top speed is unknown.
Cyclone is the park's latest way to try to stand out from the competition, he said.
"This is about as much excitement as we could get on the piece of property that we had," he said. Two tracks were knocked down to accommodate the building of Cyclone.
The entire amusement park is about 284 acres, less than a half mile in area, compared to behemoth Walt Disney World in Florida at more than 27,000 acres. But Jolly Roger is two blocks from the beach and a portion fronts Isle of Wight Bay.
The official ribbon cutting and grand opening of the attraction is Friday, but you can ride it now. Cyclone has been in a soft opening phase for several weeks, Langrall said.