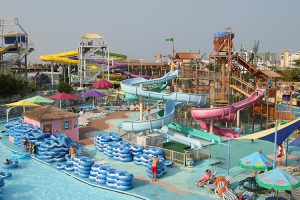 Splash Mountain Water Park is officially open for the summer in Ocean City, Maryland! Jolly Roger is getting back to their classic tradition of opening the water park on Memorial Day weekend to kick off #MyJollySummer and they did just that. Whenever you're coming to visit this summer, make sure to check our hours and the rides we have open at the passes counter, as we continue building our jolly crew for the season!
One of the best things about Jolly Roger's Splash Mountain is that there's something for everyone to enjoy and experience. Grandma and grandpa, mom, dad, teenagers, kids—our variety of rides will not disappoint any member of the family! 
Splash Mountain Rides for All Ages
Lazy River: The Lazy River is the perfect place to sit back and relax as you float along the peaceful river. The whole family is welcome to join you or escape to experience some alone time floating on the 1,100-foot, slow-moving water on your own.
6 Lane Speed Slide: Everyone in the family can race against each other side by side to see who makes a splash first! The classic slide is fast-paced and smooth to help you ease into some of the bigger, thrilling water slides around the park. 
Aqualoop: The Aqualoop is a one-of-a-kind experience at Jolly Roger's Splash Mountain! Send the daredevil of the family to test out the enclosed 360-degree looping water slide with a trap door that sends you down to the water below with a BIG splash.
Rainforest Slides: The Rainforest Slides combine multiple elements of fun. It has the ultimate treehouse playground experience with rope walkways, water guns to spray any pirates in your way, and water slides to escape to the bottom fast and do it all over again!
Kiddie Pirate Ship Pool: If the little ones are excited to embark on pirate adventures, bring them over to their very own Pirate Ship Pool for a swim in the shallow waters and a chance to slide down a water slide of perfect size.
Wave Pool: Regroup with the whole family after a fun day of thrills on the looping water slides or relaxation in the lazy river at the wave pool. Body surf, duck under the waves or ride on top of the water in one of our inflatables for a fun customizable experience.
We're having a great time already this #MyJollySummer and we can't wait for more! Get your passes here and plan your visit to Splash Mountain in Ocean City, MD for tons of family fun.