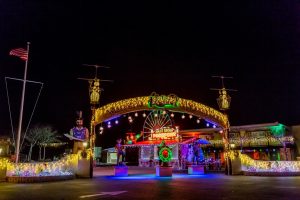 Have you made your holiday shopping list and checked it twice? This season, give the gift of a #MyJollySummer to all of your friends and family with the best Christmas sales in OCMD at Jolly Roger Amusement Parks. Our deals kick off with our World Famous Black Friday event on November 26, from 8am – 5pm, and don't stop until Christmas Eve! 
Ready to get shopping? Check out some more information on our sales, and mark your calendars, we have some deals that you won't want to miss. 
Holiday Shopping in OCMD
Shop our World Famous Black Friday Sale only on November 26 from 8am – 5pm, at Jolly Roger on 30th Street! Get all the fun for half the price because ALL Jolly Roger passes are 50% off! Purchase passes for the Pier and our 30th Street location, including SpeedWorld, Splash Mountain, Mini Golf, and our 30th St. Amusement Park! Choose from the BIG Ticket, 2-Hour Armbands, Unlimited Daytime or Unlimited Nighttime Armbands, and more! ALL for 50% off! 
Can't make it to Ocean City for Black Friday? Then shop online from the comfort of your home on Cyber Monday! Starting at 12:01 am until 11:59 pm on November 29, all Jolly Roger passes will be 30% off! Give your friends and family memories that will last a lifetime and choose from any of our passes for one of the best discounts of the year. Just enter Promo Code: JOLLYSANTA2022 at checkout! 
There's nothing worse than missing out on a great sale, except for missing TWO great sales back to back! If you missed Black Friday and Cyber Monday, don't worry. We're spreading the Christmas cheer from December 1-24. Stuff the stockings with passes to Jolly Roger all for 20% off. Our Christmas Sale is perfect for last-minute shoppers that still want to get a great price and spread the fun this holiday season. At the checkout, enter Promo Code: JOLLYELF2022 for your Christmas savings! 
Set your calendars and get in on the great savings only at Jolly Roger Amusement Parks. We can't wait to see you next summer!