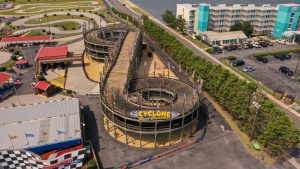 2023 is here and all we can think about is being one step closer to summer! Here at Jolly Roger® Amusement Parks, we can't wait for our parks to be open and for the crowds to come out, jumping on their favorite rides and experiencing new ones.
Whether visiting Jolly Roger when you come to Ocean City, MD is an annual tradition or you've never been before, then our summer 2023 bucket list will give you the best rides at Jolly Roger® Amusement Parks that you have to try while you're in town!
2023 Summer Bucketlist for Jolly Roger® Amusement Parks
Splash Mountain Water Park is THE place to cool off on a hot summer day. The Stealth is the most extreme water slide in the park! Do you think you can handle it? Face the thrill of the half-pipe slide, gliding down the slippery slope. If you go once, we promise you'll want to do it again!
The Cyclone Cart Coaster is a one-of-a-kind experience you can only get at SpeedWorld®! As the world's first cart coaster, the five-story track does not disappoint. The combination of go-carts and roller coasters can't be beat. So, make sure to level up and include the Cyclone when you get your SpeedWorld passes!
We all know this has to be on the bucket list… The Giant Wheel at the Pier is an icon of Ocean City, MD—a landmark that generates excitement the moment it's in sight. Ride to the top to experience some of the best views our beach town has to offer. 
Challenge your vacation crew to a double-or-nothing mini-golf competition for bragging rights or a prize! Play your first game at Jungle Golf, adventuring through the tropical rainforest. Then, Treasure Golf will be the additional test to see who can win on a pirate's terrain!
You can't forget about 30th Street! The rides on 30th include all of the classics and thrill levels for all ages. If you're a coaster fanatic, try to tame the Wild Cat as you go up, down, and around the track with fast-paced fun and excitement!
Although we have to wait a few more months, there's plenty of time to buy your passes in advance and plan out your bucket list rides. We can't wait to see you all have a blast at Jolly Roger® Amusement Parks this summer in Ocean City, MD!