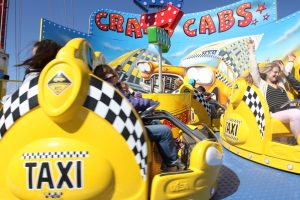 Every year at Jolly Roger Parks® we try to add something new and exciting for our returning Guests! This year we have refurbished our Giant Wheel with New Gondolas and added twice as many lights to brighten the Ocean City skyline – or try a spin on our new ride at the Pier – CRAZY CABS! This Jolly Roger adventure features yellow taxi cabs that spin you around and around in an exciting twist.
At 30th Street, we added two New Kiddie Water Slides at Splash Mountain and added Two New Acts to our Free Circus – twice nightly beginning in July!
So we're excited to share with you all that Summer 2018 has in store!