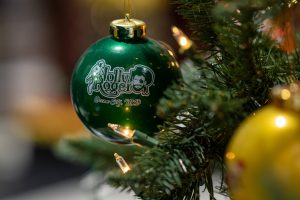 The holiday season is right around the corner, and Jolly Roger Amusement Parks®  is here to make your celebrations extra special with our exclusive discounts and deals on all 2024 park passes. Whether you want to ride the slides at Splash Mountain, take a thrilling ride on one of our roller coasters, or challenge your friends to a race at SpeedWorld next summer, we've got something for everyone! 
World Famous Black Friday Sale
Kickstart your holiday shopping at our Black Friday Sale on November 24th! Join us in-store at the SpeedWorld Building and enjoy 50% OFF on all your favorite Jolly Roger park passes. Whether you're looking to buy Splash Mountain season passes, passes for a specific park, or even the Big Ticket, this is your chance to secure a Jolly summer in 2024. The SpeedWorld Building will be open from 8 am to 5 pm on Black Friday. Make sure you don't miss out on the biggest sale of the year!
Cyber Monday Sale
Are you not an OC local? Or maybe you just can't make it in-store on Black Friday. No need to worry! Our Cyber Monday Sale is the perfect time to stay cozy at home and still secure fantastic deals. On November 27th, visit our website and take advantage of our exclusive offers. For one day only, we're offering a 30% discount on all online orders when you use the promo code JOLLYSANTA2024 at checkout. The sale begins at 12:01 am and lasts until 11:59 pm, giving you plenty of time to grab your tickets at a great price!
Christmas Sale
The holiday deals don't stop on Black Friday and Cyber Monday. If you're a last-minute gift shopper, this one's for you! Our online-only Christmas Sale is up next and extends from November 28th to December 24th, allowing you to enjoy amazing discounts all season long. Use promo code JOLLYELF2024 at checkout during this period to receive 20% OFF all 2024 park passes.
Don't miss out on these amazing opportunities to create unforgettable memories at Jolly Roger Amusement Parks®. Be sure to mark your calendar for these holiday sales, and secure a Jolly summer in 2024!