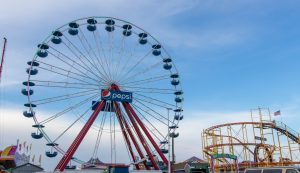 Are you looking for some summer fun for your next family vacation? Look no further than the adventure that awaits in Ocean City, Maryland! At Jolly Roger® Amusement Parks, summer's not over yet. In fact, we still have plenty of jolly fun in store for you. With rides varied from kiddie-sized to thrill-seeking excitement, Jolly Roger has it all!
Will you take a last-minute splash at Splash Mountain Water Park, rated the #1 Family Fun Destination in Ocean City, MD? Or perhaps you'll race to the finish line at SpeedWorld®! Looking for a park with something for everyone? From pint-sized rides for the little ones to high-flying adventures, at Jolly Roger® Amusement Parks, we have it all! 
Looking to make the most out of our vacation? Allow the local experts at Jolly Roger® Amusement Parks to guide you through the perfect day at Jolly Roger, and check out our top activities to maximize your fun! 
Enjoy the Views from the Giant Wheel
Delight in an unmatched view of our favorite beach town from the top of our Giant Wheel! Looking for a view of the beach and the bay? We have you covered! Watch the bay and get a midtown look at OCMD from the Giant Wheel at Jolly Roger® 30th St. Amusement Park, then head towards the Inlet for our iconic Giant Wheel at Jolly Roger® at the Pier! 
Make a Splash on the Master Blaster at Splash Mountain
It's time to take on the Master Blaster at Splash Mountain Water Park! This water roller coaster is for double tubes only with single riders allowed, which means double the fun and double the speed! Hold on tight as you fly down this high-speed slide, the parks first waterslide to go uphill! 
Have High-Speed Fun at Speedworld®
Are you ready for thrills, excitement, family fun, and most importantly, speed? Join us at Speedworld® in Ocean City, MD! With 10 tracks, SpeedWorld® maintains bragging rights as the largest go-kart facility on the entire East Coast! Whether it's your youngest child's first time behind the wheel on the Rookie Track or the entire family's annual race up and down the Cyclone Cart Coaster, SpeedWorld® has something for everyone.
Play a Round of Miniature Golf at Jolly Roger Mini Golf
What's a trip to Ocean City without a round or two of Mini Golf? Jolly Roger® Mini Golf features two golf courses. Play Jungle Golf through the tropic rain forest and playful waterfalls, and around our peaceful lagoon. Or, if finding buried treasure is more to your liking, try a round of Treasure Golf. Outsmart the pirates and their friends who are guarding their loot, the pirates at Jolly Roger take their jobs very seriously, defending their treasure to the very end! We challenge you to a hole in one! 
Experience thrills on the NEW Freestyle 360 at Jolly Roger at the Pier.
The Freestyle 360 is a new ride at Jolly Roger® at the Pier that will take you full-circle on a 360-degree spin, looping through the air! Come to a screeching halt at the top of this new thrill ride where you'll continue to rotate as you hang upside down. Check out the Freestyle 360 as the sun begins to set, where you'll be captivated by hundreds of flashing lights. Looking for more at the Pier? Check out our complete list of rides and entertainment! 
End the day with Thrasher's® French Fries!
There's nothing comparable to the iconic taste of Thrasher's® French Fries! These hot and delicious fries scream summertime and are at the top of everyone's to-do list when visiting OCMD. Do you wish you could win FREE Thrasher's® French Fries for an entire summer? Well, now you can! Simply follow the directions on this page and enter to win! But hurry, contest ends September 7, 2020! 
Are you ready for some fun? Jolly Roger® Amusement Parks is the best place on the East Coast to take your kids for fun that they'll never forget, making memories that will last a lifetime! Purchase your Passes and get the fun started!
We can't wait to see you for another #MyJollySummer!
At Jolly Roger® Amusement Parks, we understand that the COVID-19 pandemic has guests curious about the efforts that our park is taking to be sure that your summer is spent enjoying some good, clean, fun. 
Please follow this link to read updated information about some updates you can expect to see around the park, including safety protocols that will remain in place until we receive further guidance from the State level.