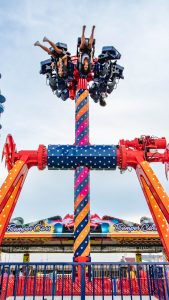 Looking for fun things to do this weekend in Ocean City, Maryland? Jolly Roger® Amusement Park is open on the weekends and we're so excited to have visitors again after the long, cold winter. 
With so many attractions and activities in Ocean City, Jolly Roger® is giving you the inside scoop about the best spots to check out when you're in town this weekend.
The Pier is the place to be for fun and excitement for the whole family! Go for a spin on the Freestyle 360, looping through the air. Want even more thrills? Try the new Drop & Twist and be prepared to be sent spiraling. And, when you're at the Pier you can't miss the iconic Giant Wheel that showcases the beautiful views of Ocean City.
The largest go-kart spot on the East Coast as the name suggests is all about having HIGH-SPEED fun! See if you're NASCAR material when you race to the finish line on the Future 8 and cheer on the kids racing in the Kiddie Grand Prix. Don't miss out on the SpeedWorld® famous roller coaster, The Cyclone!
Go searching for buried treasure at Treasure Golf! Challenge your friends and see who can outsmart the sneaky pirates protecting their loot. If tropical is more your style, start your adventure at Jungle Golf, a rainforest oasis with hidden challenges to face throughout the game.
Enjoy the best fries in the world! This hot and delicious snack is right next to Jolly Roger® at the Pier for visitors of all ages to devour. Thrasher's® French Fries is a great treat to refuel for more activities or end the busy day of fun.
What will you do first on your weekend in Ocean City? Purchase your Passes and get the fun started! Check out each park's weekend hours here.
At Jolly Roger® Amusement Parks, we understand that the COVID-19 pandemic has guests curious about the efforts that our park is taking to be sure that your summer is spent enjoying some good, clean, fun. Please click this link to read updated information about some updates you can expect to see around the park, including safety protocols in place. 
We can't wait to see you for another #MyJollySummer!