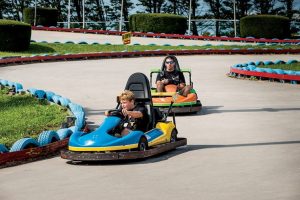 Are you looking for some safe and fun things to do with the kids this summer? Look no further than Ocean City, Maryland! A resort town situated in between the Atlantic Ocean and Isle of Wight Bay, Ocean City features miles of beaches and a classic boardwalk with family fun at every corner. Each year thousands of visitors flock Ocean City for some fun in the sun, little do they know, there's a gold-mine of family fun waiting for them at Jolly Roger® Amusement Parks!
Jolly Roger® Amusement Parks is more than a location, it's a vacation destination! Choose from go-karts and waterslides to roller coasters and more all in one convenient spot on the bay. So why bring your kids to Jolly Roger® Amusement Parks? Check out this list for our top 5 things to do with your kids at Jolly Roger®!
Jolly Roger® at the Pier
Are you looking to spend your summer nights on the Ocean City boardwalk? Visit Jolly Roger® at the Pier for fun and excitement under the summer sky. Check out our NEW rides for 2020, the Freestyle 360, and Drop & Twist. And, for the younger kids, enjoy a spin on our iconic Tea Cups, or the Jumpin' Jack. End your night with a trip around the Giant Wheel, a boardwalk favorite, no trip to Ocean City is complete without enjoying the sweeping views of OCMD on the Giant Wheel.
SpeedWorld®
Are you ready for thrills, excitement, family fun, and speed? Join us at SpeedWorld® in Ocean City and get swept away in hours of high-speed fun. SpeedWorld® has something for everyone! Take your youngest for their first time behind the wheel on our Kiddie Grand Prix, or race to the finish line on the Future 8! SpeedWorld® is the largest go-kart facility on the East Coast, and is home to the first go-kart rollercoaster – The Cyclone®!
Splash Mountain
Jolly Roger® Splash Mountain Water Park is the #1 family fun destination in Ocean City, MD! This kid-friendly water park offers a water coaster, half-pipe slide, lazy river, and other amazing entertainment! Spend your day at the largest waterpark on the Eastern Shore. Relax in the Lazy River or take a thrilling ride down the Aqualoop! Race your friends on 6-Lane Speed Slide, and end your day cooling off in the Wave Pool. Splash Moutain also features a Splash Pad and Kiddie Pirate Ship Pool for the younger members of your family.
Jolly Roger® at 30th Street
Take your kids and head to Ocean City's only full-service Family Amusement Park! At Jolly Roger® 30th Street, we offer unparalleled fun for the entire family. The 30th Street rides vary from kiddie-sized fun to thrill-seeking excitement. Enjoy FREE entertainment from Lollipop the Clown, Pirate Theatre, and Circus Smile! Take your littles for some fun on the Winkie Whale ride, the Wacky Worm, the Iron Horse Train, and so much more! Enjoy a ride on our double-decker Carousel, and don't forget to end your trip with a spin on our Giant Wheel, where you'll find unmatched aerial views of Ocean City's beach and bay!
Mini Golf
What's a trip to Ocean City without a round or two of Mini Golf? Jolly Roger® Mini Golf features two golf courses. Play Jungle Golf through the tropic rain forest through playful waterfalls, and around a peaceful lagoon. While it all sounds relaxing – BEWARE! Wild animals populate these links and its volcano has been known to erupt! If finding buried treasure is more to your liking, try a round of Treasure Golf. Outsmart the pirates and their friends who are guarding their loot, the pirates at Jolly Roger take their jobs very seriously, defining their treasure to the very end!
Are you convinced yet? Jolly Roger® Amusement Parks is the best place on the East Coast to take your kids for fun that they'll never forget, making memories that will last a lifetime! Purchase your Passes and get the fun started!
At Jolly Roger® Amusement Parks, we understand that the COVID-19 pandemic has curious about the efforts that our park is taking to be sure that your summer is spent enjoying some good, clean, fun. Please click this link to read updated information about some updates you can expect to see around the park, including safety protocols that will remain in place until we receive further guidance from the State level.
We can't wait to see you for another #MyJollySummer!