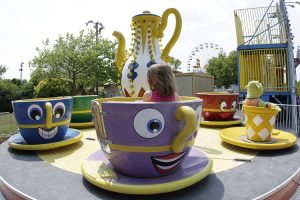 Looking for a summer trip with fun for the whole family? The famous boardwalk beauty of Ocean City, Jolly Roger® Amusement Parks has it! Vacationing with toddlers and young children may keep you looking for things to do in order to keep them busy during the day and help them go right to sleep back at the hotel! 
With a variety of rollercoasters, water slides, mini-golf, games, and snacks, as well as the legendary view from the Giant Wheel that lets you see miles from the beach to the bay, you're set for the whole trip with Jolly Roger® Amusement Parks! Check out some of our favorite things to do for toddlers when visiting Ocean City, MD, and order your passes today!
30th Street Amusement Parks
At Jolly Roger® 30th Street, there are rides for every member of the family! Your thrill-seeking toddlers will love the Wacky Worm as one of their first roller coasters! The Tea Cups and Pirate Ship rides are classics that you and your children are sure to make lasting memories on. Maybe the Tea Cups aren't your toddler's cup of tea… there's plenty more to explore at Jolly Roger® 30th St. Amusement Park! Jolly Roger® has two family-friendly and adventurous mini-golf courses where the whole family can seek buried treasure at Treasure Golf or explore a tropical rainforest at Jungle Golf!
Splash Mountain Water Park Kid-Friendly Rides
Splash Mountain has been a family favorite since 1964! Make new memories here and see why it's one of our most popular parks! Stopping by the Wave Pool is the thing to do when introducing your little ones to the waves. Safely practice body surfing, ducking under, and swimming all day long! For more adventures, explore Splash Mountain's Rain Forest Play Area and its ultimate treehouse!
SpeedWorld® Rookie Track
As the largest go-kart facility on the Eastern Shore, Jolly Roger® SpeedWorld® in Ocean City, MD has racetracks for everyone! Cheer on your little ones as they experience the high-speed fun of our Rookie Track! Once they are basically NASCAR ready, test your luck in the Kiddie Grand Prix! 
Kid-Friendly Rides at the Pier
Jolly Roger at the Pier® is a well-known staple of Ocean City, MD. With bright colorful lights, games, rides, and attractions, it's easy to see why Jolly Roger® is a popular stop. Your toddlers will be wow-ed by our Giant Wheel overlooking Ocean City and the Double Decker Venetian Carousel. Hungry for more? Stop by Thrasher's French Fries, an Ocean City favorite and a great snack for the whole family.
Don't miss out on making Jolly Roger® Amusement Parks part of your family vacation! Start planning now to discover all of our parks and stay up to date with the latest Jolly Roger® Amusement Parks has to offer!
At Jolly Roger® Amusement Parks we are committed to the health and safety of our staff and all who visit us. Please click here to see our COVID-19 updates, including safety protocols implemented.