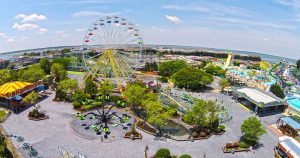 UPDATE: Jolly Roger ® Amusement Parks are now OPEN! Please click HERE For more information!
As part of our continued commitment to the safety of our guests, and in accordance with guidance from Governor Hogan and state and local officials, Jolly Roger® Amusement Parks will remain temporarily closed. We deeply apologize for any inconvenience this may cause, and hope to be allowed to open our doors to you soon.
During this time, our team will continue to get our parks ready to welcome you back when we can. We will announce openings as soon as we are given the 'okay' to resume operations from Governor Hogan. 
At Jolly Roger® Amusement Parks, we are continuing to monitor the ever-evolving COVID-19 pandemic closely, and we look forward to welcoming you back as soon as Governor Hogan's executive order allows.  
Please see below for a list of commonly asked questions: 
Will you be open this summer? 
As soon as we are given the 'okay' from Governor Hogan and our local officials, we will be opening our doors to our guests for another #MyJollySummer. In the meantime, please follow our Facebook pages and subscribe to our email list, as we will be posting announcements there as soon as we are able to. 
What happens to my passes? 
All passes, armbands, and points (tickets) will be honored indefinitely until used. Traditionally, our Jolly Roger® at the Pier, Jolly Roger® at 30th St., SpeedWorld®, Splash Mountain Water Park, and Jolly Roger® Mini Golf passes never expire, and we will continue to honor that policy throughout these difficult times. 
What if I purchased a Season Pass to Splash Mountain Water Park? 
Our Season Passes to Splash Mountain Water Park will be honored. Please understand that there are two scenarios;
When we open our doors this summer, your 2020 season passes will be honored for one year from that date next summer. (ie. if Splash Mountain Water Park opens July 1st, 2020, your Season Passes will be honored through July 1st, 2021.)
Due to the current situation, if your plans change, and you do not redeem your Season Pass in 2020, it will be honored in 2021. 
If you have any questions or concerns, please contact our offices at 410-289-3477. 
We can't wait to see you! 
From Our Family to Yours, 
Jolly Roger® Amusement Parks.