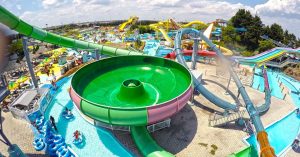 Are you looking for a local waterpark for your next family vacation? Look no further than Splash Mountain Waterpark in Ocean City, Maryland! Splash Mountain is an absolute must-visit for waterpark lovers. With unique slides, pools, and even areas for the little ones, Splash Mountain has it all! 
Jolly Roger® Splash Mountain Water Park is the #1 family fun destination in Ocean City, MD! Why should you visit? Check out our top five reasons to visit Splash Mountain and purchase your passes today! 
Waterpark Fun for the Little Ones
Are you looking for a fun and safe waterpark to take your littles to splash around and cool off from the hot summer heat? Jolly Roger® Splash Mountain is the perfect spot for your entire family! Your kids will love the phenomenal play areas, such as the Splash Pad, Rainforest Play Area, Lost Lagoon Family Pool, and Kiddie Pirate Ship. Of course, Splash Mountain also boasts a Wave Pool and Lazy River so your little one can relax and float with you! 
Adrenaline Lovers Paradise 
Adrenaline lovers unite at Splash Mountain Water Park! Enjoy the huge variety of slides to get your heart jumping! Don't miss the one of a kind Aqualoop, hailed as the number one waterslide on the east coast, the Aqualoop has a 360-degree loop that you rush through after plummeting through a trap door! The Stealth is equally as exhilarating, standing at 45-feet tall, ride the vertical sides of the ride up and back down again. 
Cool Down and Relax
Time for a break! After all of that sliding and splashing, grab a tube and float along with the Lazy River. This 1,100-ft, slow-moving river is the perfect chance to relax before enjoying your favorite slides, or hopping into the Wave Pool! Body-surf and swim the day away in the epic Wave Pool, with all of the fun of the ocean (minus the saltwater). Both the Lazy River and the Wave Pool provide the perfect spot to relax and unwind by yourself, or with the whole family!
Relax in Luxury
Did you know that Jolly Roger® Splash Mountain offers free cabanas to all of our guests?! The cabanas are the perfect spot to hydrate and enjoy a bite to eat from our concessions, or reapply sunblock and relax in the shade. The cabanas are on a first-come, first-serve basis so be sure that you arrive early to secure yours! 
More Than a Waterpark
Jolly Roger® Splash Mountain is more than a waterpark! Enjoy the other fun and excitement that Jolly Roger® at 30th St. has to offer by visiting all of our 30th St. parks! Speed around the tracks and race to the finish line at SpeedWorld. Enjoy Mini Golf with the family, or 30th St. Amusements where you'll find unmatched views of Ocean City and the Bay on the Giant Wheel, and a bunch of fun rides for the entire family! 
Are you ready to visit Splash Mountain Water Park? Jolly Roger® Amusement Parks is the best place on the East Coast to take your kids for fun that they'll never forget, making memories that will last a lifetime! Purchase your Passes and get the fun started!
We can't wait to see you for another #MyJollySummer!
At Jolly Roger® Amusement Parks, we understand that the COVID-19 pandemic has guests curious about the efforts that our park is taking to be sure that your summer is spent enjoying some good, clean, fun. 
Please click this link to read updated information about some updates you can expect to see around the park, including safety protocols that will remain in place until we receive further guidance from the State level.