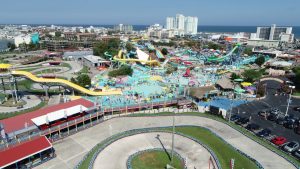 Memorial Day Weekend is here and there are so many exciting things to do at all of our Amusement Parks in Ocean City.
Of course, going to the beach and strolling the boardwalk is a must during your weekend vacation in town, but there are lots of exciting activities to do throughout our park locations that you won't want to miss out on!
Unlimited Rides
Who doesn't enjoy unlimited rides? Purchase our Day Rides Pass for $24.99, and get a full day of unlimited rides! This includes access to Jolly Roger at 30th Street from 2-6pm, Jolly Roger at the Pier from 1-5pm, and a round of Treasure Golf.
Grab a Night Rides Pass for $28.99 for unlimited rides all night from 7-11pm at the Pier and 30th Street Amusement Parks.
Not a huge fan of rides, but love Miniature Golfing? Get Unlimited Golf at both Treasure Golf and Jungle Golf all day before 5pm, or one round at each course any time after 5pm, for only $8.99 per person.
Hit all of our Amusement Parks in Ocean City, MD!
The Big Ticket is one of the best ways to hit all of our exciting locations for the "best bang for your buck!" With the purchase of a Jolly Roger Big Ticket, you'll get two hours at Speedworld (plus a Cyclone wristband), admission to the Splash Mountain Waterpark, and a Day Pass at the Amusement Park!
The best part? If you can't hit all the parks in one day, nothing expires. All passes with The Big Ticket do not need to be used on the same day.
Check out our Jolly Roger Combo Passes and Splash Mountain Family 4-Pack!