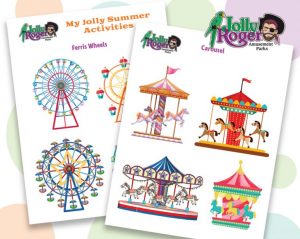 Are you planning a vacation in the upcoming month and need some fun road trip activities to entertain the kids? Or, maybe your family is spending a lot more time at home this fall and you're looking for some fun activities to keep them occupied. 
At Jolly Roger Parks, we know that this year has been a bit different, which is why we wanted to help you keep your family busy with some fun activities that can be completed indoors or out! Check out our Jolly Roger Activity Pages below to get started! 
Word Searches and Bingo
Print out some Jolly Roger Word Searches and get started finding your favorite rides and things to do in our favorite beach town, Ocean City, Maryland! After you've found all the words, print off a Jolly Roger Bingo Card and mark off all of the fun that you've experienced at Jolly Roger Parks and OCMD. The first one to yell "BINGO" wins! 
Jolly Roger Coloring Pages
Who doesn't love coloring? This relaxing activity is perfect for anyone from toddlers to adults! Color in each of our Parks, and even a Thrasher's French Fry. Once you've completed those pages, get patriotic and sharpen your red and blue crayons for our 4th of July Coloring Pages.
'Build Your Own' Activities
Looking for an activity that your kids can get creative with? Check out our 'Build Your Own' Activity pages! From building your own Mini Golf to Race Tracks, Amusement Park, and Water Slide, we have hours of fun available for you! All you need to do is print your pieces and get started! Each Build Your Own activity comes with an activity card filled with what you'll need, and directions! 
At home, on the road, or at the Parks, we're always up for some fun at Jolly Roger Amusement Parks! Don't forget, once you're finished with any of these activities, post your completed project, word search, bingo board, or coloring page on Facebook or Instagram and tag @JollyRogerAmusementParks! 
We hope you stay happy and healthy! 
We can't wait to see you for another #MyJollySummer