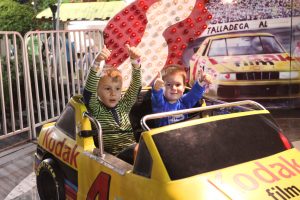 Remember the Good Old Days? They're still going on at Jolly Roger Amusement Parks in Ocean City, Maryland! 2019 marks 55 years of true-to-its-roots family FUN at Jolly Roger! What better way to celebrate half a century in OCMD than rounding up one of our best years ever? Check out our 2019 Year in Review!
Did you know that for the past five years, Jolly Roger has participated in Christmas in July? Throughout the two-day event (Christmas Eve and Christmas Day), the Park works closely with the Marine Corps Reserve to collect toys and monetary donations for Toys for Tots. In 2019 Jolly Roger helped to raise $5,340 for Toys For Tots and collected close to 200 toys!
"I love working this event because it gives me great satisfaction to be able to provide toys for over 4,000 disadvantaged youngsters," said Marine Corps Reserve, Bob Broderick, "It's a Marine Corp tradition – we always do local ads, but doing this at the Jolly Roger Pier is a great way to appeal to visitors of Ocean City." 
Throughout the summer, the staff at Jolly Roger donated park passes to 13 charitable groups such as the Wounded Warrior Project, the Make a Wish Foundation, and Little Pink Houses of Hope. They also discounted park passes to 43 local schools, 40 girl scout troops, and 55 youth groups and camps this summer! 
Jolly Roger Amusement Parks held 11 fundraisers this in 2019 including the MAC Inc. Area Agency on Aging, the Atlantic General Hospital Junior Auxiliary Group, and more! 
In addition to assisting groups, families, and organizations in making life-long memories when they visit the beach, the Park offers local families and those on vacation FREE entertainment every day throughout the summer season!
Stroll around the park and get in on some free fun with Ocean City's favorite clown – Lollipop! Lollipop the Clown will be at the 30th Street location during summer hours every Monday through Thursday, come by for balloon animals, face painting, and laughter with Lollipop this summer all for free! Don't forget about the mermaids! With admission to Splash Mountain, take a dip in the Kiddie Pirate Ship Pool and swim with the mermaids for free! The mermaids will be handing out bracelets to children and decorating their faces with glitter every Monday, Wednesday, Friday, Saturday and Sunday!
Jolly Roger Amusement Parks really is all that and so much more! Since 1964, founder Charles "Buddy" Jenkins, along with each and every member of the team throughout the years, has been dedicated to providing true, old-fashioned family fun to all of their visitors. Though acreage and visitor numbers have changed enormously, Jolly Roger remains to hold key to all of our childhood dreams. 
Visit Jolly Roger Amusement Parks at any of our locations in 2020 and find out for yourself!